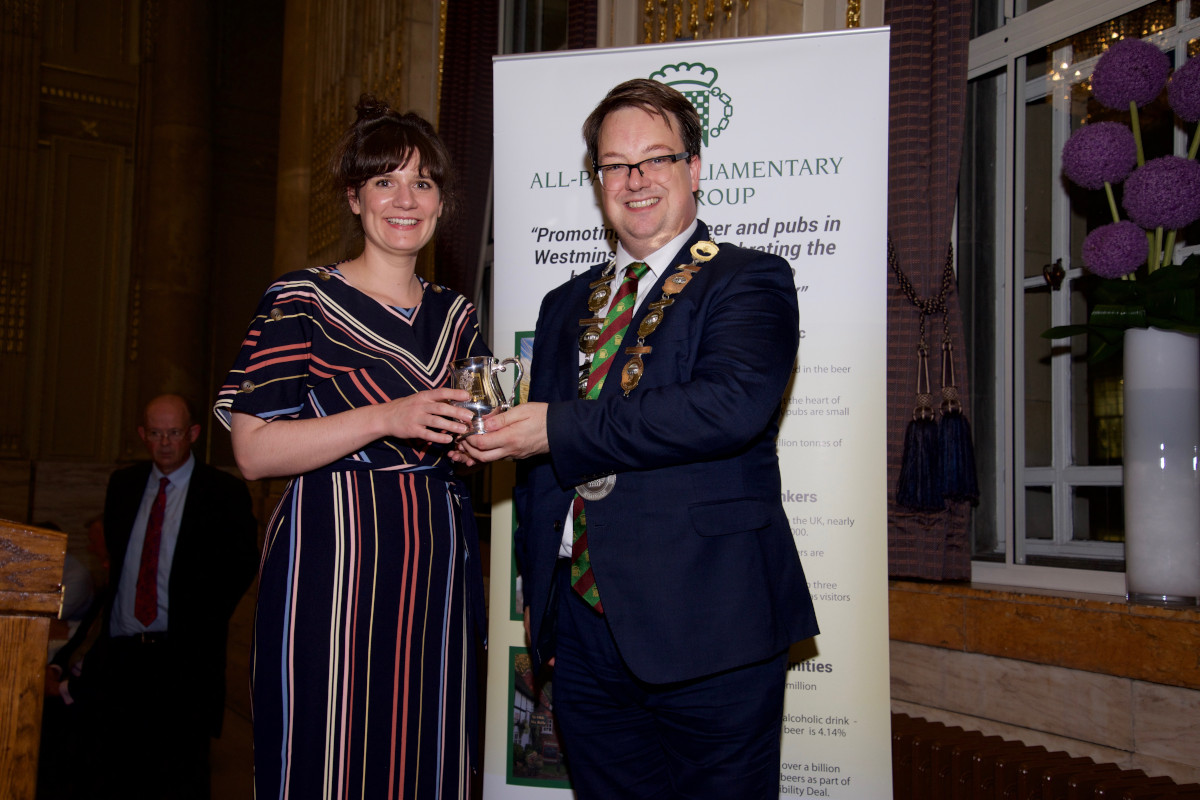 Sixth generation member of Joseph Holt family wins brewer of the year
As someone born into a brewing business which has remained in the same family for six generations, it's fair to say that beer runs in Jane Kershaw's blood. Now the great-great-great granddaughter of legendary brewer Joseph Holt has been named Brewer of the Year 2019.
Says Jane, "It is vital we make beer the number one drink of choice again and support our pubs which are a significant part of our culture and identity."
Crowned the winner at a ceremony in Westminster, Jane, 32, received the award in a vote cast by the Institute of Brewing and Distilling (IBD).
"I was absolutely astonished," says Jane. "I know that people who work in the brewing industry care passionately about their beer. I love the science which goes into producing our own award-winning ales. But to be recognised like this is absolutely wonderful. I love everything from the natural raw ingredients, developing new beers, understanding fermentations to the fact that we make a product with such history and heritage, that brings people together."
Jane showed strong interest in the brewing business from a young age. During school holidays she would work on a manual bottling line, climb into open squared fermenters in order to scrub them clean as well as shadow the professional brewers as they went about their work. At the age of 19 she spent six months working at the Anchor Brewing Company in San Francisco and was hooked before moving into Logistics with Molson Coors and finally a shift brewer with Budweiser UK where she would be in charge of approximately six-million barrels. After studying at the University of Leeds and completing her work for breweries across the UK and Belgium she joined Joseph Holt in 2017.
She is currently studying to become a Master Brewer – the highest level of brewing qualification offered by the IBD – and one of only a small number of women in the UK to do so. An independent family brewery, Joseph Holt was established in 1849, and produces award-winning beers as well as running 126 pubs.
Adds Jane: "As a family business, I'm so mindful of the Joseph Holt legacy and the history we carry forward to each generation. I smile every time I enter the brewery gates in the morning, it's a real privilege to work in this industry so to be honoured as Brewer of the Year means a great deal not only to me but to all of us who work here. Beer and pubs are the heart and soul of our country. It is our national identity and I'm so proud that we make a top-quality product that bring people together, for all occasions."
Paul Hegarty, Honorary Secretary for the All-Party Parliamentary Beer Group, says "The Brewer of the Year winner is not only considered for their brewing expertise but also their wider commitment to beer, brewing, people and the community. Jane has all these qualities and more. She works tirelessly and acts as a peer to many others in the brewing world. There was no doubt that Jane was a worthy winner for this award."