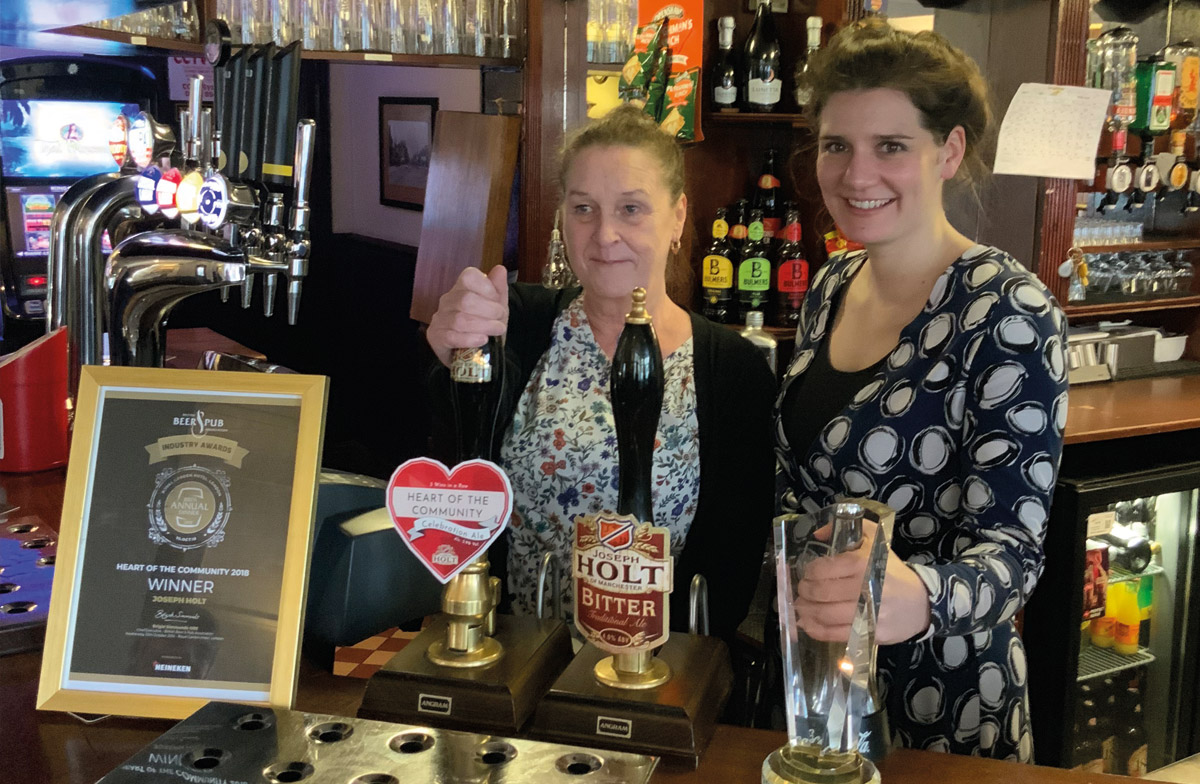 Celebration ale marks triumphant awards success for charitable brewery
Big-hearted brewers Joseph Holt are celebrating being the only brewery to win the special 'Heart of the Community' award three times in a row, by producing a special edition fund-raising beer.
The Manchester-based brewers have won the 'Heart of the Community' category at the British Beer and Pub Association Awards for the third consecutive time.
The award recognises a brewery's commitment to community and charity work, and to mark this triple achievement, Holt's have now produced a 'celebration ale' – made using a combination of UK and US hops, with 20p from each pint going to The Christie.
The brewery won the plethora of awards thanks to annual fundraising activities for dedicated charities.
Last year efforts by employees and generous customers across its 127-pub estate and brewery, which included sponsored mountain climbing and sky diving, raised £140,000 for Maggie's Manchester – one of a chain of centres which offers free practical, emotional and social support to people with cancer.
Ruth Tobi, Fundraising Organiser for Maggie's explained: "our approach to cancer care allows people to take of control of their lives through free support and practical advice from qualified staff, in a warm and welcoming space – the support and commitment to fundraising that Joseph Holt made to Maggie's was phenomenal.
The centre, which is completely funded by donations, was so grateful for the kind generosity showed by Joseph Holt and its customers – it really highlights how much they support their communities."
This year's designated charity is The Christie, a specialist cancer centre which has links with Maggie`s as the centre is in the grounds of the hospital.
"We wanted to brew a celebration ale which not only would mark our success at the awards but, more significantly, would give something back to the community," said Jane Kershaw, 6th Generation of the family.
"Our pubs are very much at the heart of communities. A place where people can pop in, meet others, enjoy the atmosphere and feel part of something. The charities we are aligned with produce that same kind of community feeling."
Roger Spencer, Chief Executive at The Christie agrees: "Christie patients feel a sense of Holts and its community throughout the hospital and there are acknowledgements of its support over the years. We are extremely grateful to Holt's for its loyal and continued backing of our work."
The Christie and Joseph Holt have a particularly special relationship, which has just celebrated its 100th anniversary.
In 1914, Sir Edward Holt, great grandfather of the present-day Chief Executive of Joseph Holt, Richard Kershaw, launched an appeal to raise £20,000 (equivalent to £2.5 million in today's money) to help set up the Holt Radium Institute. This later merged with The Christie Hospital in 1933 to form The Christie Hospital and Holt Radium Institute, forerunner of the present day leading international cancer centre.
Tony Collier, 62, an accountant from Altrincham is one patient who has benefited from treatment and support from The Christie and Maggie`s. Diagnosed last year with advanced prostate cancer, he says the limited-edition beer is a wonderful way to mark the success of Holt`s fundraising programme.
"When you have cancer it`s so important to feel a sense of community. Maggie's has been a lifeline for me, but it relies on charitable donations. While the work of The Christie far exceeds the funding, it receives. The ale is a wonderful way to continue to celebrate Holt's fine fundraising tradition."