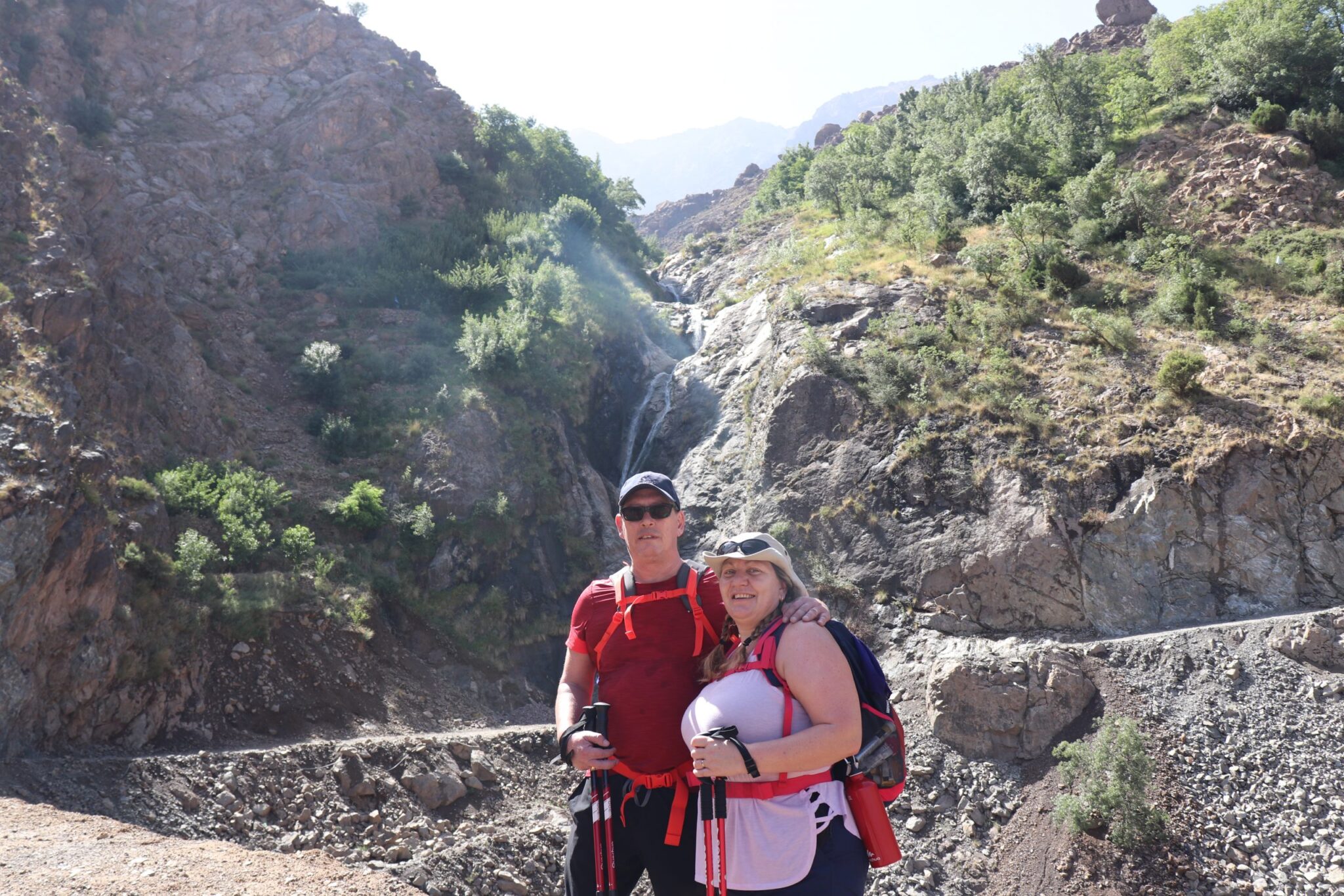 From Urmston to Mount Toubkal – a 13,671 ft climb to support The Christie
Joseph Holt Pub Managers; Ian and Julie Slamon are no strangers when it comes to demanding and physical challenges in their efforts for fundraising and this year is no different.
The couple recently trekked to Mount Toubkal in the Atlas Mountains of Morocco which is the highest point in North Africa.
Their arduous trek started at 7am from when Ian and Julie left their comfortable hotel in Marrakech to travel to the Atlas Mountains. A journey that took them one and a half hours on some very interesting roads. Ian and Julie then began their climb to Nelter Hut at 3,210 metres – a long rocky path that took from 10am in the morning until 6pm. Both described their first day as "A very tiring day as you begin to feel the effects of high altitude at around 2,500 metres.".
Unfortunately, four members of the group were affected badly by this, developing altitude sickness at various times throughout the night and sadly Julie was one of the affected group members who couldn't join on the second day, instead Julie stayed in camp to recover.
Adding words of encouragement, Ian stated; "None of them should feel bad as base camp sits around two and a half times the height of Ben Nevis and is a major achievement in itself!".
On day two, Ian climbed over and through various boulder fields and over a lot of scree which resulted in a few falls and slips. Thankfully, by 11.30am the group had reached their goal summit at 4,167 metres (13,671 feet) from which they were treated to some stunning views of the Atlas mountain range in all its glory. There were even some mountain goats grazing and a chipmunk. Then the inevitable climb down back to Nelter Hut (base camp) which took around another six hours followed by dinner and an early night.
By day three, the whole group began their descent at 7am on the same treacherous path they headed up two days previously.
Pub Manager Ian Slamon commented; "This walk was hard for its own reasons, not least because of how heavy your legs feel by this point! We got down by around 1.30pm a trek of around six and a half hours. From there it was back to our hotel for a badly needed shower and then an evening of celebrations in a beautiful traditional restaurant set deep in the heart of the Medina. On these treks, we meet some awe inspiring people who I'm sure will remain our friends forever. Each with their own reasons for taking on the challenge and all raising thousands for their particular charities. Well done to them all!"
Pub Manager Julie Slamon also added; "The charity treks we have completed over the last few years have taken us to some amazing places. The Atlas Mountains and Mount Toubkal was extremely challenging due to its massive heights in such a short time it took us to climb. We really felt the difference in altitude which made me quite ill. However, we saw some amazing views and the vibrant and colourful City of Marrakech.".
The couple have planned a few more fundraisers which include:
Nights of Neon Walk – Tatton Park
Sky Dive – The Lake District
June 2019 – Kilimanjaro Trek in Africa
To support Ian and Julie on their £20,000 target for The Christie, please make your donation to https://www.justgiving.com/fundraising/lnu or to find out more information on how you can get involved with the pub's fundraising.