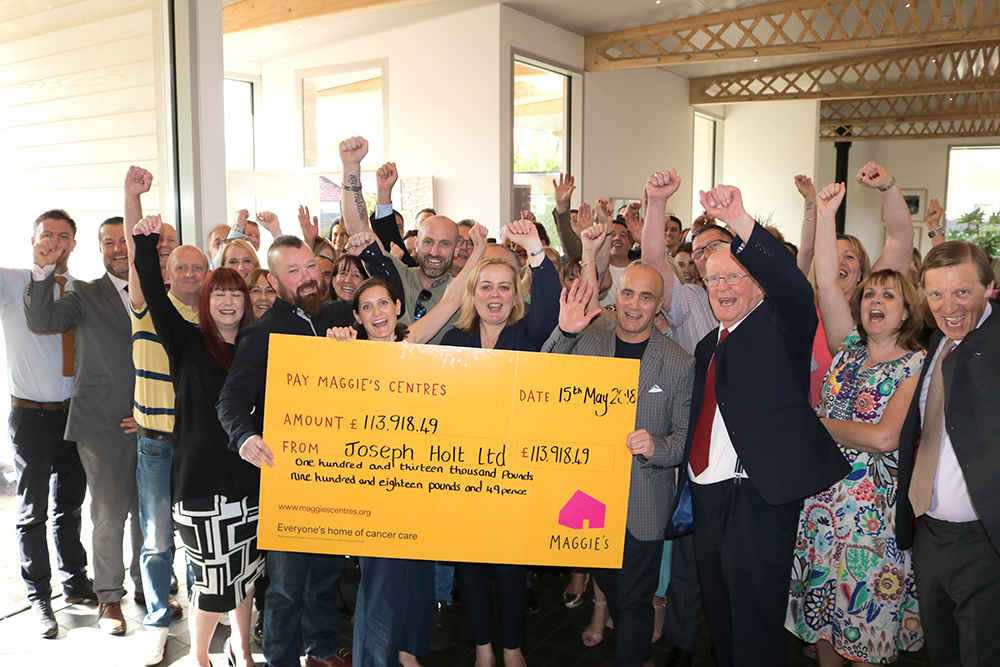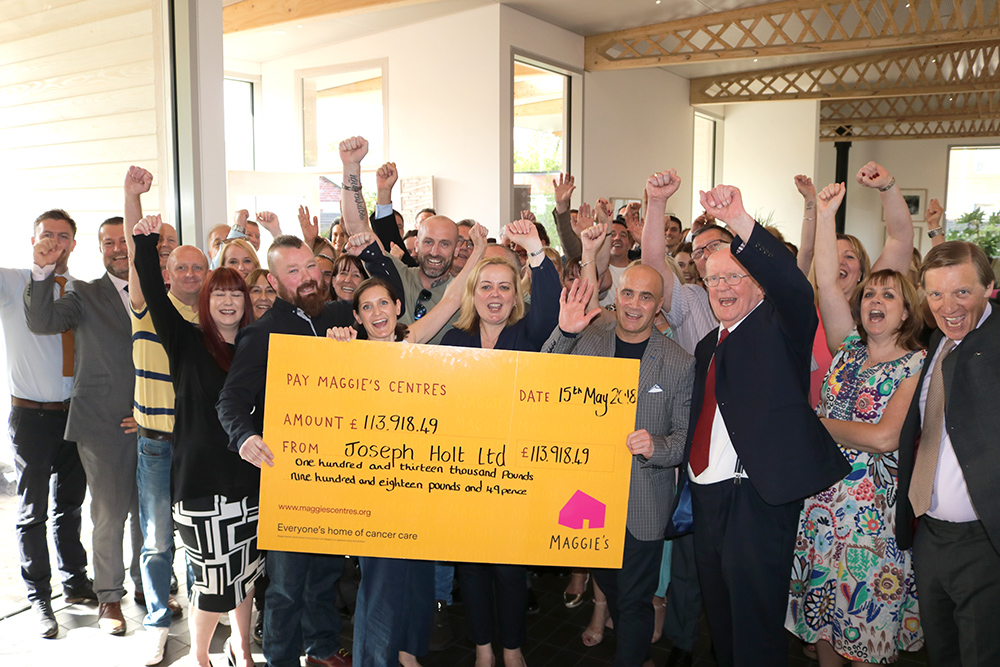 Joseph Holt Brewery raises £113,918.49 for Maggie's Manchester charity
Manchester Brewer, Joseph Holt has just concluded its successful charity partnership with Maggie's Manchester. Maggie's is a charity that offers practical, emotional and social support for people with cancer and their family and friends. The brewery and the top fundraising pubs attended a presentation at Maggie's centre opposite the Christie Hospital to present Maggie's with a cheque totalling to £113,918.49.
We have over 125 pubs and each and every one of them got behind Maggie's Manchester appeal, raising tremendous amounts of money through many fundraisers; such as a charity head shave by the Pub Managers at Silver Birch, the team at The Griffin in Heald Green organised a 30-mile walk from Joseph Holt Brewery, passing five Joseph Holt pubs along their route back to The Griffin pub. An indoor bike-ride scaling from Land's End to John O'Groats which is around 874 miles was ridden by the Platform 5 team in Cheadle. One additional pub that needs a mention is the Lord Nelson in Urmston run by Pub Managers; Ian and Julie Slamon who set their sights on climbing Machu Picchu. The couple completed a 94 km hike from Siem Reap to Angkor Wat which took them through rainforests, paddy fields and through some of Cambodia's local communities. In their 5 day trek, Ian and Julie experienced some challenges such soaring temperatures of up to 40°C every day in high humidity.
In the last year, the staff at the brewery have collectively organised charity bake sales which featured some delectable treats, a Joseph Holt inspired boules event held at our very own Hare & Hounds bowling green, as well as a fun pub Quiz Night at the Ape & Apple pub where team Maggie's were able to join in. No mountain is too high for our brewery staff as some completed the Yorkshire 3 Peaks Challenge showing true tenacity and commitment in fundraising for Maggie's. Our Free Trade and Estates department joined forces and organised a great Golf Day for our suppliers, contractors and Maggie's staff to partake in a day of fundraising and Maggie awareness and hopefully a hole-in-one.
Joseph Holt CEO Richard Kershaw commented; "I would like to thank the whole team at Joseph Holt, they have gone above and beyond to raise money for Maggie's Manchester over the last year. Maggie's, Manchester opened in April 2016 and it was crucial for us that we not only raised money but also awareness. It was essential for us to tell the people of Manchester and North West about the Maggie's Centre, the wonderful work they are doing and how they can help people. We raised a staggering £113k for Maggie's which would not have been possible without the fantastic support we received from our customers and staff. It is fantastic that every penny goes back into helping our local community. I also want to thank our customers for attending events in pubs, putting pennies in the tins on the bar and sponsoring our staff doing crazy challenges. It has been great fun working with the team at Maggie's and I want to thank them for making it such an enjoyable partnership.".
At the cheque presentation, we had the pleasure of Councillor Peter Connor, the Ceremonial Mayor of Salford who helped to present some special recognition awards to some key fundraisers. For the closing of the presentation, Maggie's Centre Head; Sinead Collins and the team presented a lovely video showcasing the last 12 months of support from Joseph Holt staff. The video included some fundraising event highlights that the staff have held to raise money for Maggie's Manchester. It also touches on the awareness raised by Joseph Holt staff for the charity in the fantastic work they do within the Manchester community.
Maggie's Centre Head; Sinead Collins added "We have been so impressed by the wonderful enthusiasm and amazing hard work put in by all the Joseph Holt team who have fundraised and supported Maggie's Manchester this year. Not only have the team raised the most amazing sum of £113,918.49 for Maggie's but also they have helped us reach thousands of their customers and raise awareness of the support on offer at Maggie's to anyone affected by cancer which is just so valuable. The funds raised will help us do such much for people facing the difficult emotions, challenges and treatment that cancer brings. £40 covers the cost of an hour's support from one of our professional team whether that's helping someone manage the difficult emotions and challenges that a cancer diagnosis brings or speaking to one of our benefits advisors to find out about vital financial support; the monies Joseph Holt raised will provide more than 2,800 hours of support! We were delighted to be able to host a wonderful celebration here at Maggie's and on behalf of all the staff, volunteers and Centre Visitors at Maggie's Manchester. I would just like to say a massive thank you to Joseph Holt you have been truly amazing.".
To view all of the pictures from the closing cheque presentation, visit our Facebook Page.