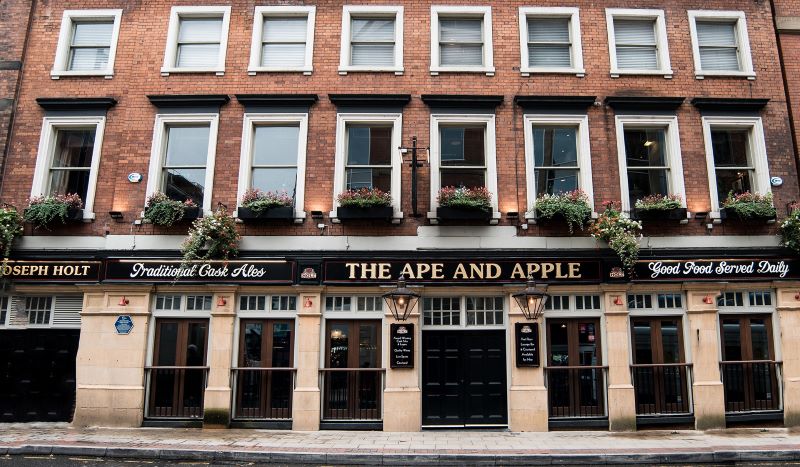 Joseph Holt Launches First Cask Ale House
The Ape & Apple, which is situated on John Dalton Street, opens this week following a full refurbishment, which has enhanced the building's many original features and complemented the quirky nature of this pub.
Taking inspiration from its surroundings, The Ape & Apple is a blend of classic pub offerings and contemporary charm. The new site provides a warm and welcoming atmosphere, offering traditional pub grub, cask ales, gourmet whiskies and bottled craft beers, plus an excellent wine menu.
Rebecca Daniels, Marketing Manager for Joseph Holt comments: "It's been a very busy few weeks for us with the full refurbishment of the Ape & Apple and a further two sites underway. We are very excited about the outcome of this development and know our first cask ale house will be a huge hit. The offering is traditional, with a twist, pub grub, a full range of cask ales and a variety of bottled beers, there's also gourmet whiskies on the bar for those enthusiasts and bubbles for those who aren't! This concept really could pave the way for other sites in our estate."
The traditional heart of the pub remains, in the sense that the Ape & Apple will continue to provide first-rate quality food and drinks at an affordable price. The new food menu features anything from a heart-warming Corned Beef Hash to a yummy coffee and pudding.
The Ape & Apple is also the first in the Joseph Holt estate to provide a Cask Loyalty scheme, whereby the 9th pint of any cask ale is free on production of a completed card, of which are available from the bar.
The second floor of the pub has been transformed into a performance studio, which is free to hire and fully equipped with a PA system and microphone. The studio is also host to Manchester's longest running free comedy night every Wednesday from 8.30pm.