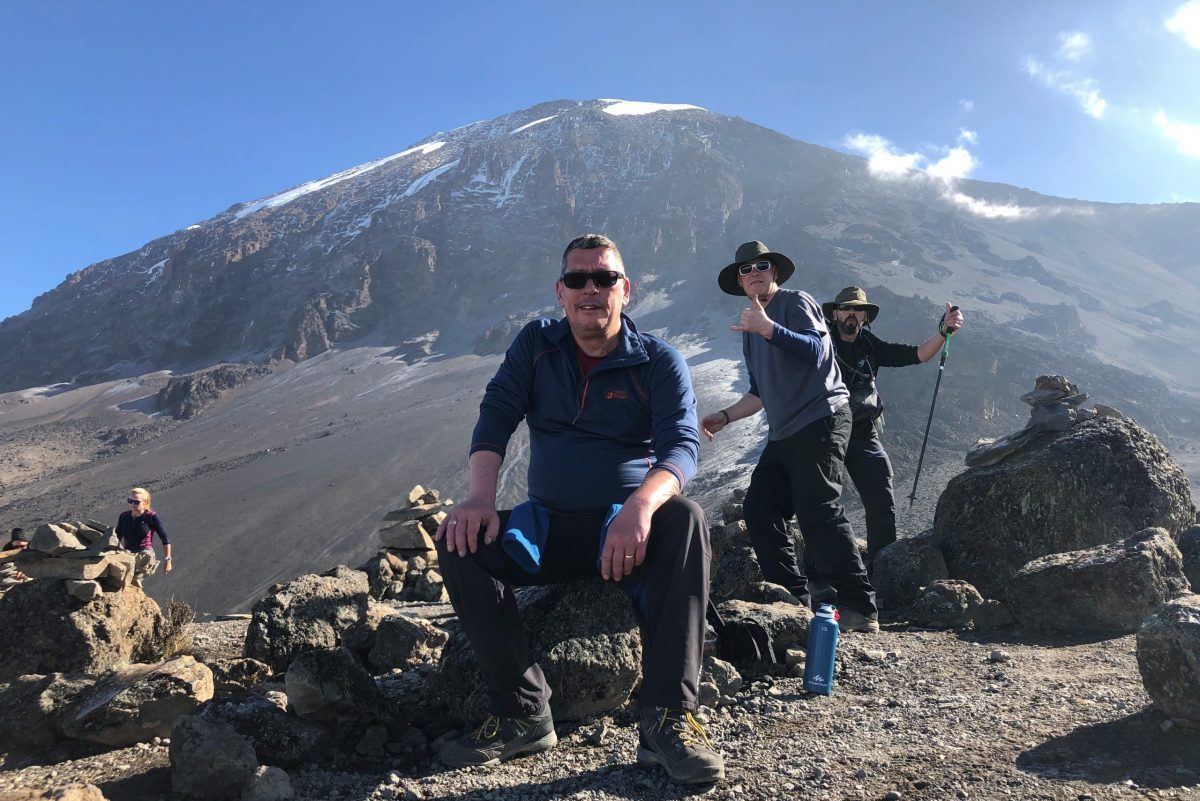 Lord Nelson Manager climbs Mount Kilimanjaro for The Christie
The manager of the Lord Nelson in Urmston, Ian Slamon, has successfully scaled Mount Kilimanjaro with three of his customers. The challenge done to raise money for The Christie has taken the Urmston pub's total to £15,000, with more still to come.
Ian Slamon, who's managed the Lord Nelson with his wife Julie for 19 years, was joined by Ciaran McKeever, Jason Boyle and John McCarrol to scale Africa's highest mountain, and the highest free-standing mountain in the world, reaching a peak of 19,341 feet (5,895m) above sea level.
Setting off on the 20th June, it took Ian and the expedition team six days to reach the summit from the challenge entrance at Machame Gate (1,800m). Over the six days on the Machame route the team trekked through dense tropical rainforest, scrambled up rocky terrain and all the up to the snow-capped peak.
Ian said: "We endured temperatures as cold as -15oC on the way to the summit as you have to set off at midnight to catch the sunrise. We reached the top around 8am but we had very little energy left in the tank to celebrate our achievement!
"It's all worth it though for such an incredible cause and we're glad we can play our part in raising funds."
Ian and Julie aren't shy of a challenge or two to raise funds. Over the years, the couple, with help from others along the way, have climbed Mount Toubkal in the Atlas Mountains, sky dived from 15,000 ft, trekked up Machu Picchu in Peru and completed a 94km hike to Angkor Wat, Cambodia.
In total they have raised a phenomenal £130,000 for various charities and last year were invited down to the House of Commons after being shortlisted for Pub-aid Charity Pub of the Year.
Next up for the money-raising adventurers is a September trek in the Alps covering 3 countries in 3 days (Switzerland, France and Italy). They have set themselves the ambitious target of raising £20,000 by the end of the year and hopefully will be able to smash through that with this Kilimanjaro climb and the plans they have for the rest of the year.
Their money will go towards a pot of £100,000, which has been pledged by Joseph Holt for the redevelopment of the Radiology department at the Christie and Holt Radium Institute.
If you'd like to donate any funds which will all go to the new Christie CT department, please visit their Just Giving page – www.justgiving.com/fundraising/lnu.