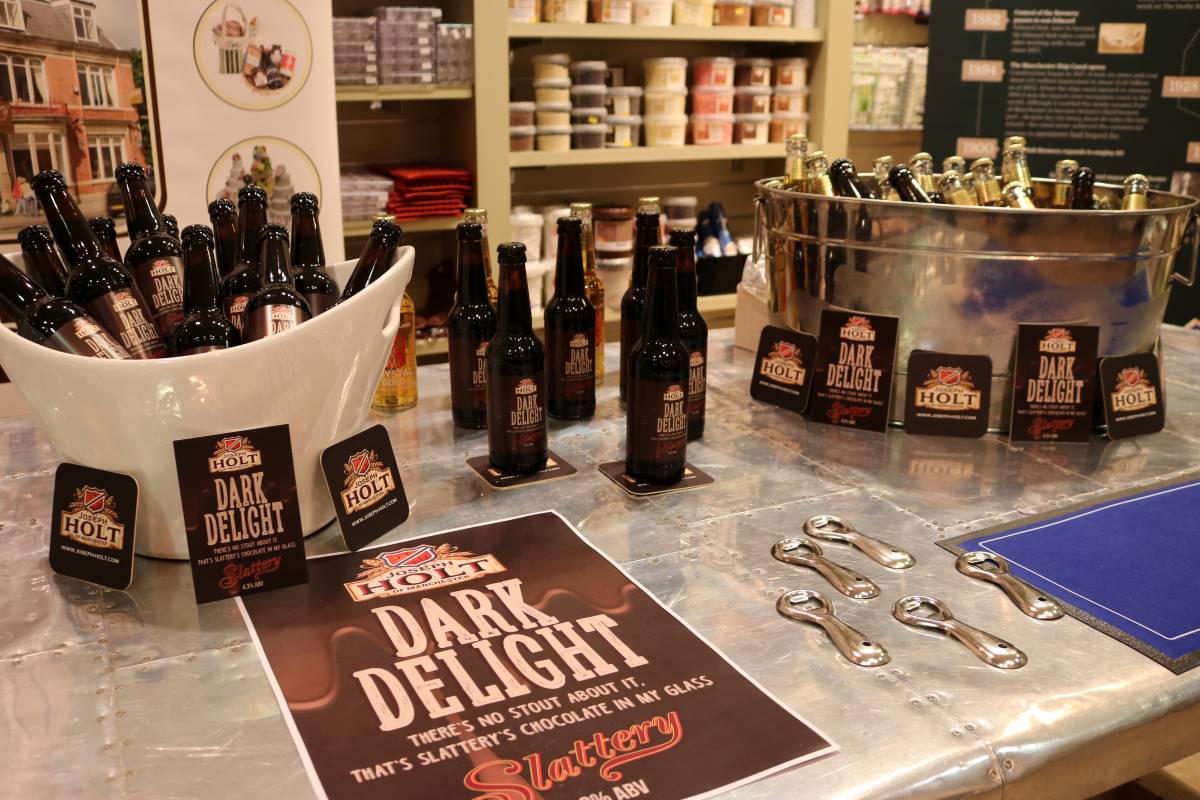 Manchester Brewer Joseph Holt and Master Chocolatier Slattery Join Forces for St Patrick's Day!
There's no stout about it, that's Slattery's chocolate in my glass!
Two of Manchester's well-established family businesses have recently partnered up to create a seasonal Chocolate Stout called Dark Delight which infuses ingredients from both businesses. This collaboration came from a long-standing relationship between the two companies, as Joseph Holt uses Slattery's Training Kitchen to train its Chefs for preparing all the pub food classics that are enjoyed at Joseph Holt pubs.
Over the last four weeks, Joseph Holt's brewing team led by Head Brewer Phil Parkinson worked on several different recipes with Slattery owner John Slattery, before finally creating Dark Delight. The collaboration brew infuses the finest Crystal and Chocolate malts with the purest form of Cocao Nibs, giving the Chocolate Stout a full-bodied sumptuous aroma and an extravagant flavour and taste. This new delightful beer exudes a dark roasted aroma and smooth velvety texture making it the perfect treat for St Patrick's Day and Easter.
Phil Parkinson said; "The whole collaboration has been fantastic and highly enjoyable as we were able to invite John and some of the Slattery family down to the brewery to take part in the brewing process. John Slattery and his family were also there to add the final ingredient ensuring the Stout had the Slattery chocolate seal of approval.".
The Chocolate Stout was officially launched on Wednesday 14th March at Slattery's in Whitefield where esteemed guests from both companies were invited along with local press in Manchester. The event celebrated the collaboration bringing together a line of nine generations of Brewing and Chocolate-making to create this extravagant and highly delectable; Dark Delight beer.
Slattery owner John Slattery commented; "We have thoroughly enjoyed the whole process working with Joseph Holt to create Dark Delight. When Joseph Holt approached us for this collaboration, we felt it was a great opportunity to work with another established family business. We hope the beer is a huge success, it tastes great and we are extremely proud of the finished product.".
Sixth-generation Joseph Holt Marketing Manager Jane Kershaw added; "We wanted to brew a chocolate beer for Easter and St Patrick's Day and so collaborating with Slattery was very much a natural decision. I'd like to thank Slattery for hosting the product launch night at their store in Whitefield on the 14th March. It was a fantastic occasion for customers and competition winners to try the beer for the first time and talk to members of the project team first hand. We held a pub quiz on beer as part of the launch night and are delighted that everyone had a lovely time. It was great to work with Slattery on this collaboration brew, we hope our customers and Slattery's customers like the beer!