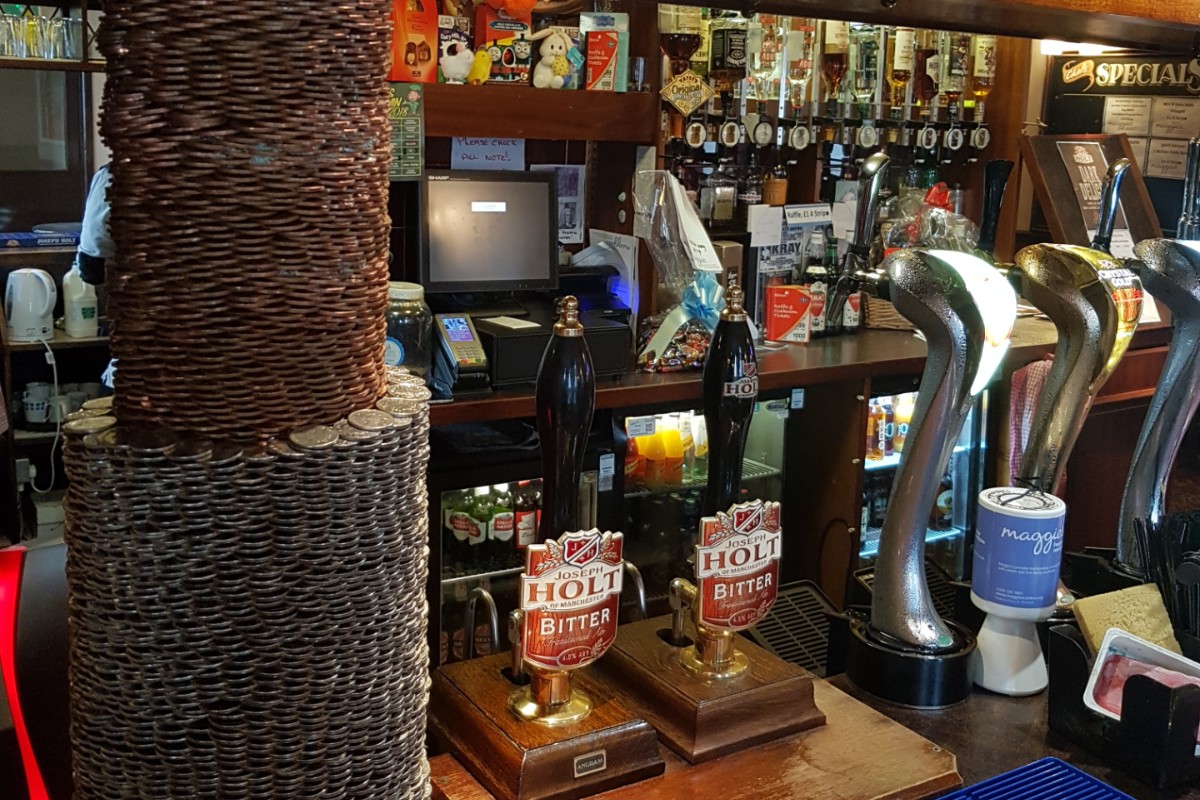 The Derby Brewery Arms brings back the 'Penny Pile' to raise funds for Maggie's charity
Derby Brewery Arms Pub Manager, Mary Heffernan, will be hosting a big fundraiser for Joseph Holt's chosen charity appeal, Maggie's of Manchester. The well-known Cheetham Hill pub is only a stone throw-away from the 1849-established Brewery, which gave Mary the wonderful idea to bring back some nostalgia fun for fundraising in pubs from the 1950's.
The penny-pile was a fun way for patrons of pubs to donate any spare change (usually in the form of pennies) to create a big pile by dabbing the penny into some water or beer to make the pennies stick together. This was seen when Pub Managers at Masons Arms pub in London in 1954 created "Miss Penny Pickles" a penny-pile created in the shape of a woman and was completed by BBC Radio presenter Wilfred Pickles, and his wife Mabel.  This was then replicated in 1976 by Andrew Ross who then owned Andros. Mr Ross got his pub into the Guinness Book of Records in 1976 by creating the world's biggest ever pile of pennies. The 8ft high column of 1p and 2p pieces, amounting to £1181.68, went to the Glasgow taxi drivers' seaside outing for patients from the Sick Children's Hospital.
Mary and the Derby Brewery Arms team has championed the Maggie's Penny-Pile which has already received large support from customers and as the penny pile is soon reaching to its completion. Mary will be hosting a big fundraiser event on Sunday 25th March where there will be live music, food, and big raffle prizes. What's more, the event will also see Manchester boxer and former WBA lightweight Champion Anthony Crolla make a special appearance to knock down the penny-pile for Maggie's.
Pub Manager Mary Heffernan commented "Having worked in the pub industry for over 12 years and growing up in the 70's, the penny-pile was always a great conversation starter in the pub and it just seems such a fun way to raise money for charity. Our customers have really rallied around the support of Maggie's and we're absolutely thrilled that they have gotten behind this wacky fundraising idea. We've also got an excellent day planned for our Maggie's Fundraiser on Sunday 25th March and we warmly welcome the whole community to come join us to watch the penny pile get knocked down by local Boxing Champion, Anthony Crolla. It will be a fabulous day and we can't wait!".