World Cup 2022 Sweepstake
Enter Before Sunday 20th Nov
Who do you think will win the FIFA World Cup 2022?
Enter our sweepstake for the chance to win cash vouchers to use in over 100 Joseph Holt pubs.
We have 3 prizes to be won!
1st – £50 in pub vouchers
2nd – £20 in pub vouchers
3rd – £10 in pub vouchers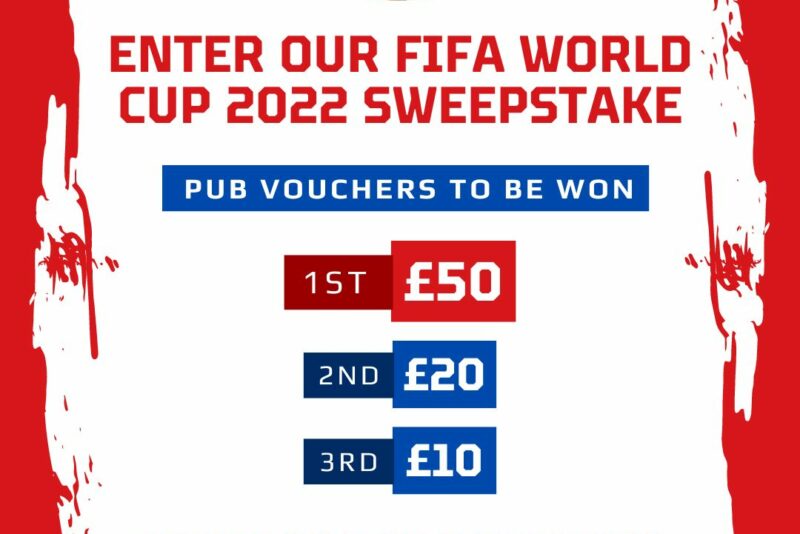 How to enter
All you have to do is choose one country from the sweeptake selection below!
Here's how it will work.
All those who select England to win the tournament will put into the England pot. If England win the tournament (yes, it could happen!), we will then randomise the winner from those in the England pot.
The same will apply for the World Cup runner-up and the 3rd place winner. For example, if you choose Spain and they get beat in the Final, you'll be entered in the 2nd place draw to win £20 of pub vouchers.
Be quick – entries close before the first game of the World Cup which kicks off at 4pm on Sunday 20th November. You can find full terms and conditions below.
Enter the sweepstake below
The chance to enter the sweepstake has now closed.
Terms and conditions: Entries to the FIFA World Cup sweepstake competition will be open from 16.11.2022 to 4pm on 20.11.2022. Entries before or after these dates won't be counted. Only one enter per person. Multiple entries will not be counted. Three winners will be selected at random from all the entries who selected the correct team. Prize will be £50 of Joseph Holt pub vouchers for 1st place, £20 for second place and £10 for 3rd place. Vouchers are redeemable in over 100 Joseph Holt pubs. Pub vouchers are not accepted in the following pubs: The Claremont, Coach & Horses, Cock O'Budworth, Eagle Inn, Millstone, Park Inn (Swinton), Queens Hotel (Macclesfield), Union Tavern
The winners will be selected on the week commencing 19.12.2022 after the World Cup Final has been played. The winners will be contacted via email. If we don't receive confirmation or hear back from the winner after 7 days of trying, we will choose a new winner. No refunds or prize changes will be allowed. The decision from Joseph Holt is final.