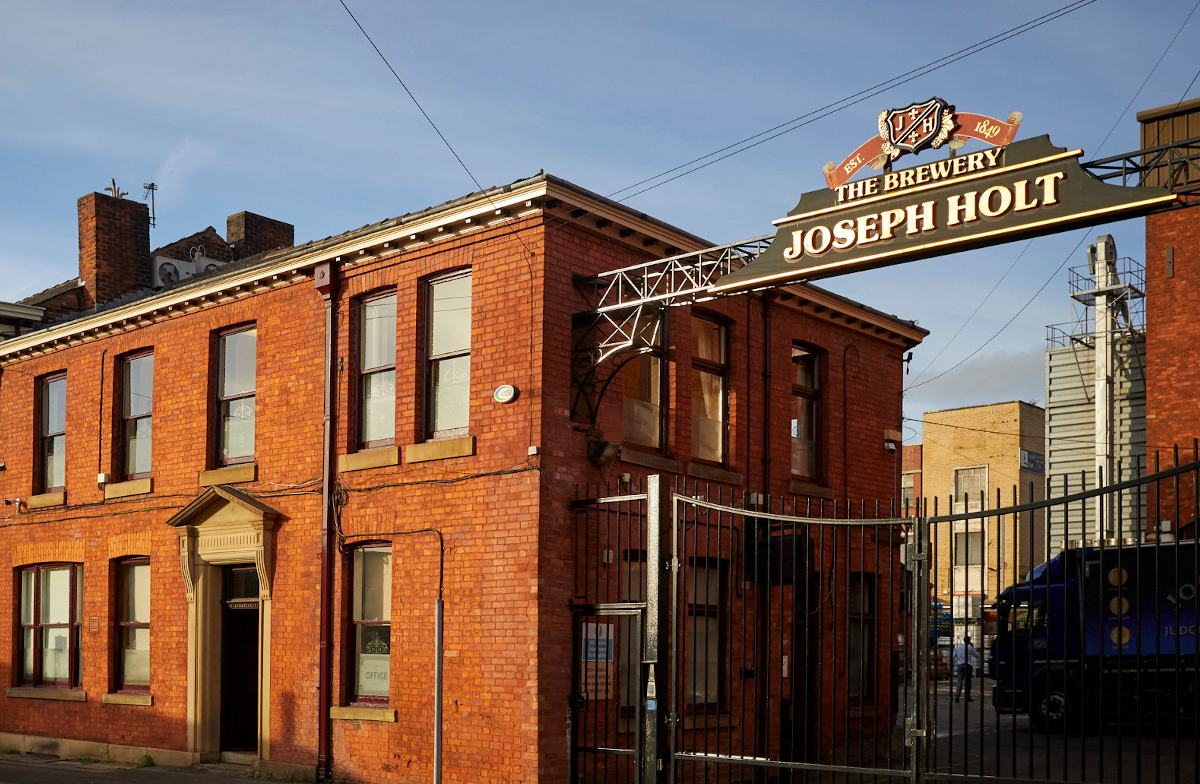 A Pioneer in Manchester Brewing
We recently had a visit from Lucy Roue from Manchester Evening News. Our CEO – Richard Kershaw and Head Brewer – Phil Parkinson gave Lucy a tour of our 168-year-old brewery by unearthing the rich history and heritage that sits behind the brewery gates. For your convenience, we've re-published Lucy Roue's article below and kindly give credit to Lucy Roue and Manchester Evening News for the article piece.
A journey through the impressive crested gates at Joseph Holt brewery is a journey through time itself.
Just off Cheetham Hill Road, the Victorian site bears the hallmarks of a family dedicated to their trade. Stepping over the concreted original well, I sense the significance of Manchester and its intrinsic link to the business.
"We are still pulling up Manchester water to make our beers and we are very proud of that," the company says.
Historic Brewers
Established in 1849 by the current chief executive's great, great grandfather, the Joseph Holt brewery has worked out of this site since 1860.
It is one of a handful of family breweries left in the UK after many were swallowed up by industry giants.
The company operates 128 pubs in the north west, serving cask beers, lagers and pub meals.
Joseph Holt also supply their award-winning beers and lagers in to more than 500 venues nationwide, known as free trade accounts.
Arriving on site, I meet with head brewer Phil Parkinson who talks me through the surprisingly delicate process of brewing.
A look inside
We climb into the fascinating original brew house, complete with machinery from the 1800s, before winding our way past silver tanks into the more modern areas.
This includes the lab where experts test the different parameters of each brew – including alcohol content, bitterness and pH level.
On the tour, we are joined by jovial, sharp-minded chief executive Richard Kershaw, who gives a tour of the brewing facilities with gusto – shimmying up ladders and letting us peep inside tanks of fermenting ale.
"Watch out for the CO2," he warns with a chuckle, over the fragrant scent of fermentation.
The brewing process is a fascinating one – how a few degrees can totally alter products and the secret strain of yeast that has filtered through the generations.
Soon to be passed on to the next as Richard's daughter Jane is poised to become a master brewer too.
This continues a long-standing tradition as the 62-year-old worked alongside his own father Peter, when he joined the business in 1980.
Richard had previously worked at Whitbreads and as a pupil brewer with Morrells of Oxford.
He said: "You can't come into the business until you can add something to it."
The Joseph Holt way
Joseph Holt has three main trading divisions: community pubs, the pub/restaurant division (where food makes up more than 50% of turnover) and free trade accounts.
It seems the essence of the pub, as an establishment, has changed substantially since the early days of this generation.
Operations director Tom Dempsey joined the business in 1978 as an office junior and has risen through the ranks to senior management.
"You are almost reviewing the way society has changed and the way society now wants pubs to be.
"When I first started they were very male dominated and we predominately supplied bitter and mild.
"Since then we have become more enlightened in society as partners, wives and families joined – and on Sundays it's kids and dogs as well. The whole community comes together. If you want to stay part of your community you will change naturally and I think that is the heart and the mind both speaking the same thing. This practical outlook is refreshing to hear in a time of endless fads and trends within the marketplace. There is still a huge benefit to investing in pubs," affirms the chief executive.
"It's not that society wants to get rid of the pub, it's that it has to be pertinent to today. We have got Manchester written in our core and the brewery is the cornerstone of that."
The future of pubs
During 2016, the firm spent £4.9m on an extensive programme of refurbishments and developments across the region.
Within the community division this included the Park, at Monton, and the Morning Star, in Walkden.
The boss describes them as 'fantastic examples' that are performing beyond expectations.
Planned growth is already underway with the acquisition of five new pubs since the year end, at a cost of £2.8m.
Another £2.5m will be spent on the renovation programme – moving towards better quality and service as well as food offerings.
In the pub restaurant division, Joseph Holt added the Clock Tower, in Northwich, and in the community division the Quadrant, in Stretford – along with three others across the region.
Richard said: "We expect to spend a further couple of million developing these new pubs and bringing them up to the standard we have set in the rest of the estate."
An agreed £25m refinancing package with the Royal Bank of Scotland is also helping to support future growth as the company is actively looking to invest in further pub acquisitions.
Elsewhere, the increase in free trade accounts, especially in Manchester city centre, has helped to grow the numbers.
This was aided by the launch of two new draught Bootleg products, Spin Doctor, a premium lager, and an American IPA.
After taking in some of the complexities of the brewing process, it is impressive to see the level of skill that goes into creating the perfect pint.
Craft beers and micro breweries
The scale of the operation has changed, with a greater demand for craft beers and unusual flavours, where as 20 years ago the site would be predominantly brewing Bitter.
Investing in smaller experimental batches is nothing new to Joseph Holt after installing a microbrewery on site in 2000.
This marked a gear change in the company's outlook after a transition from being publicly owned to a private venture. They now invest a quarter of a million pounds in the brewing house each year.
Dempsey, who heads up the product development team, says "it is important to see through the scientific process because brewing is an art form."
The brewing house create new beers every year and are already considering canned products.
"It is something that is on our radar," concedes Kershaw.
However, despite moving with the times, including a bolstered marketing and social media team, Joseph Holt already has a winning formula. This is backed up by strong financials with turnover hiking from £54m to £64m by the end of 2017.
Gross profit also increased by more than 9% in 2016.
Similarly, the number of employees continues to expand. The firm currently has around 900 staff across brewery, pub and administrative roles, that's also up from the previous year.
This positive trajectory is thanks to a number of smart investments by the board to expand their pub footprint and ensure they have the best brewing facilities. Richard said: "At the heart of this company is a proud tradition of brewing quality craft beers and lagers.
"The success we are having with our beers is being mirrored by fantastic developments in our licensed estate."
One for all
Talking of new brews, I wonder out loud how cut throat the sector can be. Head brewer Phil Parkinson is quick to dispel the myths: "Brewing is a strange industry where it isn't as competitive as you would think. There is a sense of camaraderie and instead of trying other beers I am more interested in tasting my own and getting them right."
Fair enough. Brewing is a compelling business and the strong family ties at Holt make it even more of a unique experience. I end my tour by being taught the basics.
"Strictly speaking the word lager means cold storage," I am told.
Joseph Holt chill theirs on site for up to three weeks before sending out to the public. Likewise 'ale needs to be Godly', Kershaw tells me with a wry smile.
"It has to see a Sunday before it leaves us."