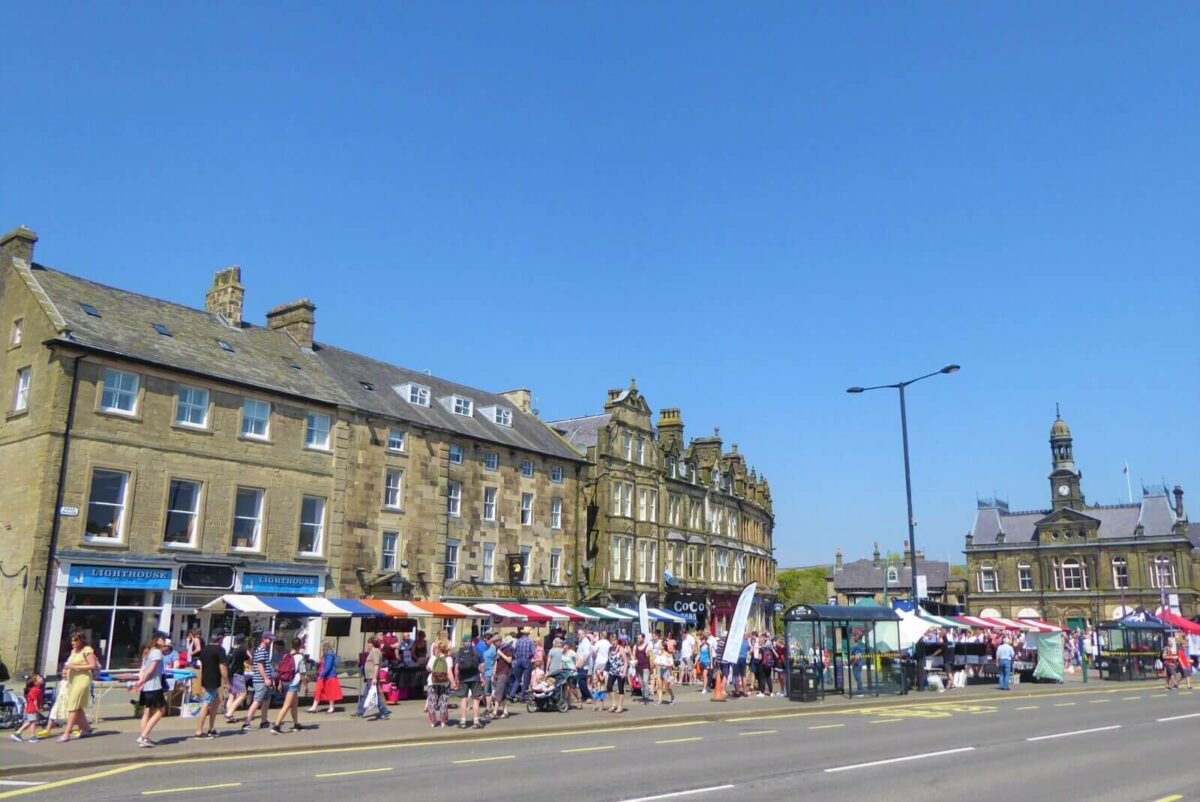 A Northern Guide: 5 Things To Do In Buxton
Considering a visit to Buxton? Great idea, it's a brilliant town! 
There are tonnes of things to do in Buxton – from beautiful architecture and natural landscapes to admire, to unique shops to visit and places to eat and drink.
And at just one hour's train ride from Manchester Piccadilly, this historic spa town is the ideal location for a weekend break or midweek trip.
So if you're wondering what to do in Buxton, we'll be sharing five ideas to help you plan a memorable visit. Our suggestions will be quite specific, to really help you plan an itinerary that will make the most of your time in Buxton.
Let's begin…
1. Visit The Gallery in the Gardens 
This independent art gallery can be found in the famous Pavillion Gardens, a Victorian Grade II listed venue. 
Pavillion Gardens includes a spacious 23 acres of landscaped parks and children's play areas, plus an ice cream parlour, event spaces, tearooms and more. It's all handily located right in Buxton town centre.
The Gallery in the Gardens is home to the High Peak Artists group. Their name refers to the area of Derbyshire where Buxton can be found, and the fact that it's England's highest market town at 300m above sea level (some handy pub quiz knowledge for you!). 
This eclectic group is made up of 45 local artists and craftspeople who create beautiful and unique pieces by hand. Work includes jewellery, turned wood, paintings, ceramics, photography and textiles. 
Pieces are available to buy, or simply have a browse to feed your creativity and feel inspired by the incredible handiwork. Look out for workshops at the gallery, too.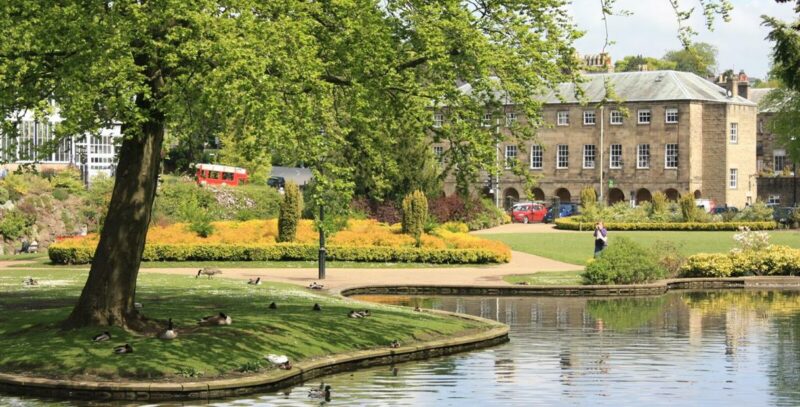 Image source: Visitpeakdistrict.com
2. Walk in stunning nature
Buxton borders the beautiful Peak District National Park on three sides. This makes it a great place to visit if you want to escape the everyday and spend some quality time in nature.
Countless breathtaking routes are easily accessible from the town, from The Ring of Trees circular walk, a ten mile woodland amble around the edges of the town, to the Buxton Circular via Combs Moss hike, where Peak District views are in abundance.
A break in Buxton offers the best of both worlds. There's plenty to see and do in the town, and countless options when it comes to things to do in Buxton's striking countryside.
And what's better than an invigorating Peak District walk, followed by a well deserved drink in a welcoming pub?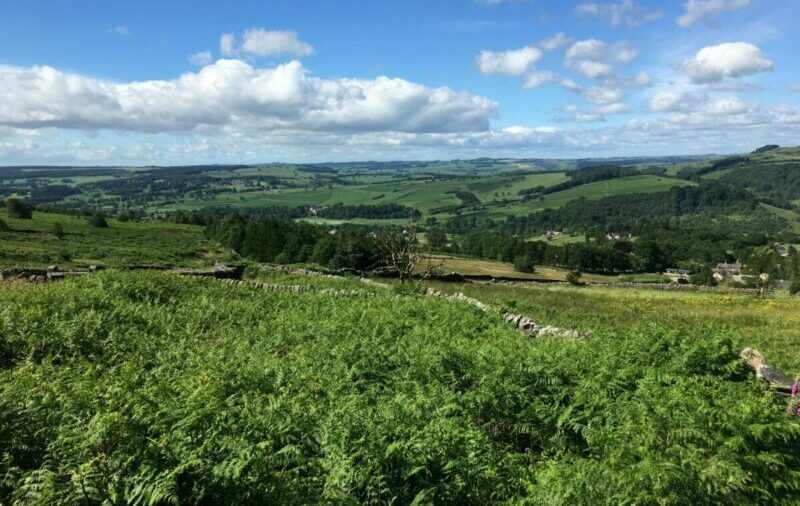 3. Enjoy Afternoon Tea at No.6 The Square
Indulging in a quintessential afternoon tea is very apt when visiting a historic English spa town like Buxton. And No.6 The Square is certainly a great choice.
This tearoom and hotel can be found in one of the town's architectural beauty spots, and is just a stone's throw away from The Crescent. The stunning Crescent is modelled on Bath's famously handsome curved rows of Georgian houses, and is another location to add to your things to do in Buxton schedule.
No.6's afternoon tea includes a selection of classic sandwiches, cakes and a fresh scone with jam and clotted cream, along with a pot of tea. Or enjoy a 'Derbyshire Cream Tea' if you're just after the scone and a brew.
An hour spent at this beautifully kept venue will take you right back to 1803 and allow you to imagine what Georgian life in Buxton was like. 
All very Bridgerton-esque indeed.
4. Browse Buxton Markets 
Planning to be in Buxton on a Tuesday or Saturday? Then be sure to visit Buxton Markets. 
Buxton has had a marketplace of sorts since the 19th century, and today it's a vibrant place to browse. Regular stalls sell fresh produce and baked goods, household items, clothes, gifts and more.
If you're lucky enough to drop by on the first Saturday of every month, you'll be treated to additional 'craft, quirky and vintage' stalls. Or call on the third Saturday of the month, and you can enjoy the specialist food and drink market.
Having a browse around the market stalls is a lovely way to spend an afternoon and should not be overlooked when choosing things to do in Buxton. 
Don't forget the shopping bags, and check out their website for up to date event information.
*Header image source of Buxton Markets from visitbuxton.co.uk
5. Stop off at The Railway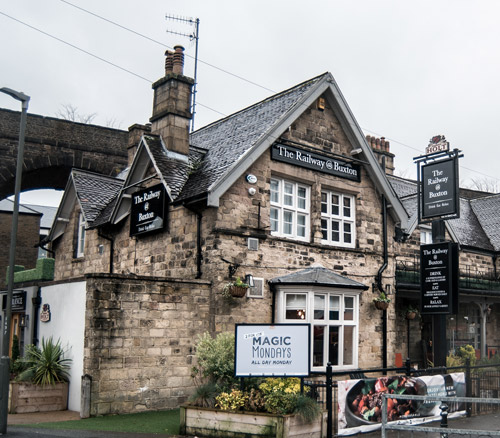 Last but by no means least, you simply can't visit Buxton without a pit stop at The Railway. 
As the name suggests, this popular pub is handily located next to the train station. This makes it the perfect place for a refreshment before or after your journey (or both!), as well as after your walk.
The open plan layout paired with stylish classic decor is the perfect blend of modern yet cosy, and the well maintained beer garden is an ideal spot for enjoying the sunshine.
Fancy something hearty for dinner after your afternoon tea or long hike? The Railway's menu can provide. It offers everything from sandwiches and sharers, to pub favourites like all day breakfasts, burgers and steaks, plus plenty of vegan and veggie options. Those with a sweet tooth will be pleased to know there's also a delicious dessert menu to round off your meal nicely.
If you're just stopping by for a drink, you can choose from a tempting range of cask ales, lagers, gin and rum, craft ale, wine and of course, proper coffee and an abundance of soft drinks.
Accessible, family friendly and dog friendly, this inviting pub offers a place for all to relax and unwind after a busy day exploring what Buxton has to offer. 
Be sure to make a drink or bite to eat at The Railway a priority when planning your trip.
That completes our pick of five fantastic things to do in Buxton. 
For a town with a population of just twenty two thousand, it has a diverse and colourful range of places to visit. There are plenty more we could have mentioned! 
Its compact size yet vibrant town centre makes Buxton a brilliant choice for a staycation. We hope you have a wonderful time, and look forward to seeing you at The Railway.