Joseph Holt Joins Campaign To Encourage Diversity In The Pub Industry
Iconic independent brewery Joseph Holt has joined a campaign to ensure pubs remain 'open to all'.
The 173-year-old family business has signed a diversity and inclusion charter for the brewing and pub industry which is being supported by other businesses across the sector.
Developed by the British Beer & Pub Association, the #OPENTOALL charter encourages businesses from the brewing and pub sector to ensure a commitment to diversity and inclusion is at the heart of their operations and across all their sites.
The charter's 13-point pledge puts forward suggested commitments including placing diversity and inclusion on board level agendas, creating inclusive venues and spaces and taking a zero-tolerance approach to harassment or discrimination of any kind.
The Joseph Holt brewery, which has been in the same family for six generations, is already committed to ensuring its 127 pubs, located across the North West, are welcoming places to all sectors of the communities they serve. This is as well as a strong workforce employed by the company explains Keeley Watts, HR Manager for Joseph Holt.
Joining the charter, she added, was simply to consolidate this point and show solidarity with the rest of the industry in reaching shared goals.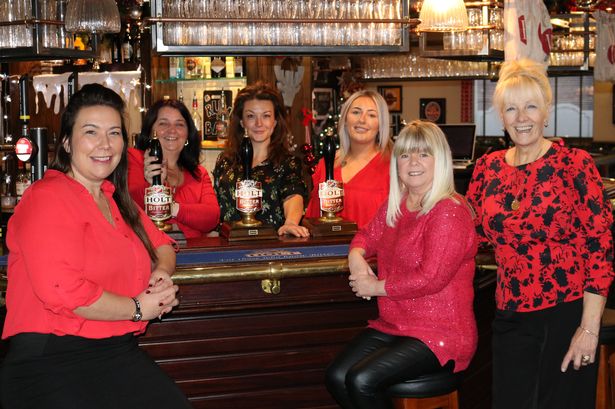 Said Keeley: "Only recently the fact that we employ six generations of landladies – from women in their 20's to their 70's, made national news and perfectly demonstrated that Joseph Holt is a place to find meaningful and responsible positions at any life stage.
Pictured above: Six generations of Joseph Holt landladies
"We have a 'can do' attitude and work with local prisons, schools, colleges, and charities, such as Mencap, to encourage a diverse range of candidates to join Joseph Holt.
"We encourage anyone with a right to work and positive attitude to consider us as an employer and support those who are interested to progress within our company. We are keen to promote that Joseph Holt may start as a job but can become a rewarding career."
Joseph Holt also runs a 'progression programme' – an innovative scheme which encourages staff members – however junior – to work towards managerial positions. The progression programme includes courses in leadership and employment relations as well as mastering tasks such as effective recruitment, pay roll work and time in the kitchens.
Adds Keeley: "We are delighted to sign up to the charter to help play our part in ensuring that our vibrant industry does indeed remain open to all."