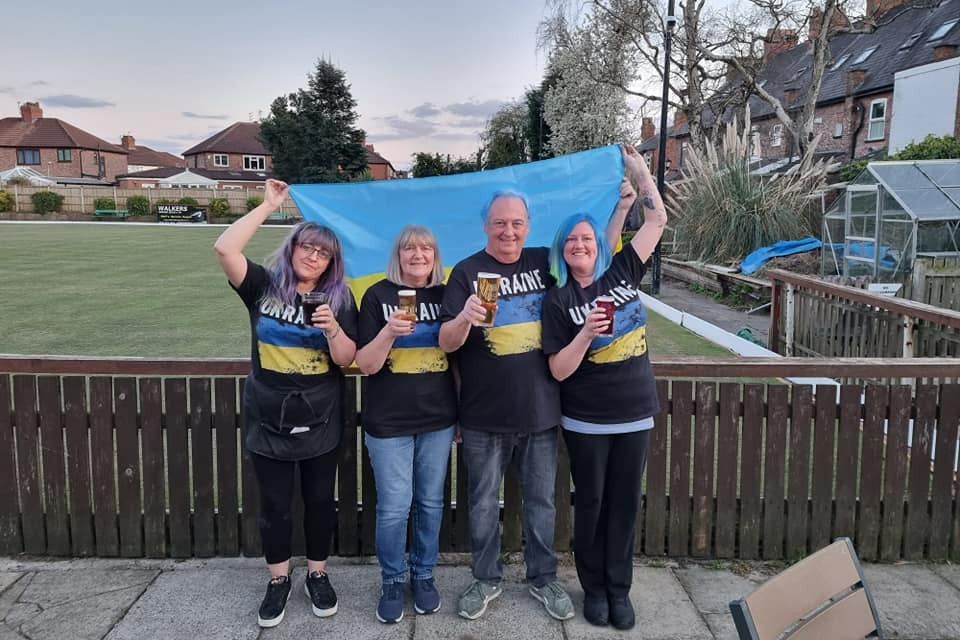 Pubs Come Together To Raise Over £20,000 For The People Of Ukraine
From charity car washes and swear jars on the bar to school discos and a curry and comedy night, Joseph Holt pubs have collected thousands of pounds for the people of Ukraine. It all comes after our pubs rallied together for a fast and furious week long campaign to raise much needed funds for those caught in the crisis.
All of our 127 pubs across the North West already commit to raising money for good causes with an annual fund raising programme for designated charities across the region – this year's charity appeal is supporting six different food banks and food clubs across the region.
However with the unfolding crisis in Ukraine it was felt an additional fundraiser was needed too. And when a clarion call went out to hold a fundraising week for those caught up in the war, the response to the seven day initiative was overwhelming. As were the imaginative ideas.
All of which has raised over £20,000 for the Disasters Emergency Committee Ukraine Humanitarian Appeal – an organisation which brings together 15 leading UK aid charities to raise funds for the crisis.
At the Grey Horse karaoke night, for example, landlady Helen Partington offered customers the option to sponsor her to stop singing! (Cash was also raised through the Stockport pub's Easter market, coffee morning). Meanwhile staff at the Millhouse in Warrington donated all their tips for an entire week.
Many fundraisers revolved around special one day events, such as a programme of activities at the Silver Birch in Wythenshawe which involved a children's dance party, charity bingo raffle and an old school disco. At the Legh Arms on the outskirts of Sale, there was a charity race night and staff dressed up in the blue and yellow of the Ukraine (as you can see in the main picture).
The Fiveways, which held a raffle and charity football card sales, even draped the Hazel Grove pub with a Ukrainian flag to show support. Meanwhile staff from the Griffin in Heald Green were busy washing cars in aid of the crisis.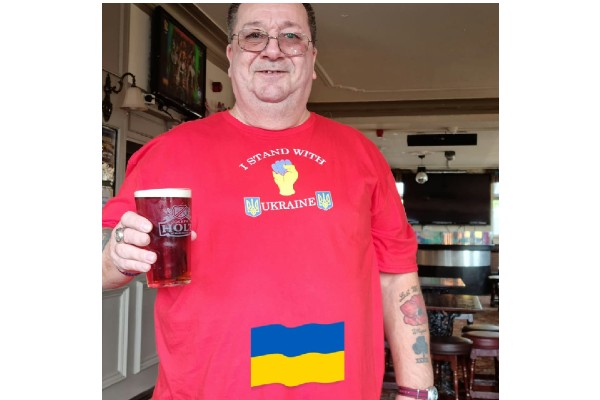 Image: Ian Johnson who donated prizes for the main raffle and plenty of Easter eggs at the Silver Birch
Events at other Joseph Holt pubs across the region and in central Manchester included homemade pie, quiche, hotpot, scone and cake sales, as well as raffles for everything from Easter hampers to a night's stay and Sunday lunch. The brewery headquarters in Manchester also held a week-long series of events to raise funds.
Said Jane Kershaw, director of Joseph Holt and sixth generation to work at the family-owned brewery:
"Our pubs are very much at the heart of our communities. And many of our staff and licencees had already embarked on their own fundraising activities for Ukraine when we launched our appeal week. But when we put the call out for everyone to become involved in a special drive to raise money the response was deeply felt – not least from our generous customers.
"It really has been amazing how much has been raised in just one week. It shows the important roles played by pubs in the communities they serve. We hope it will go some way to alleviating the terrible suffering that's happening to the people of Ukraine."