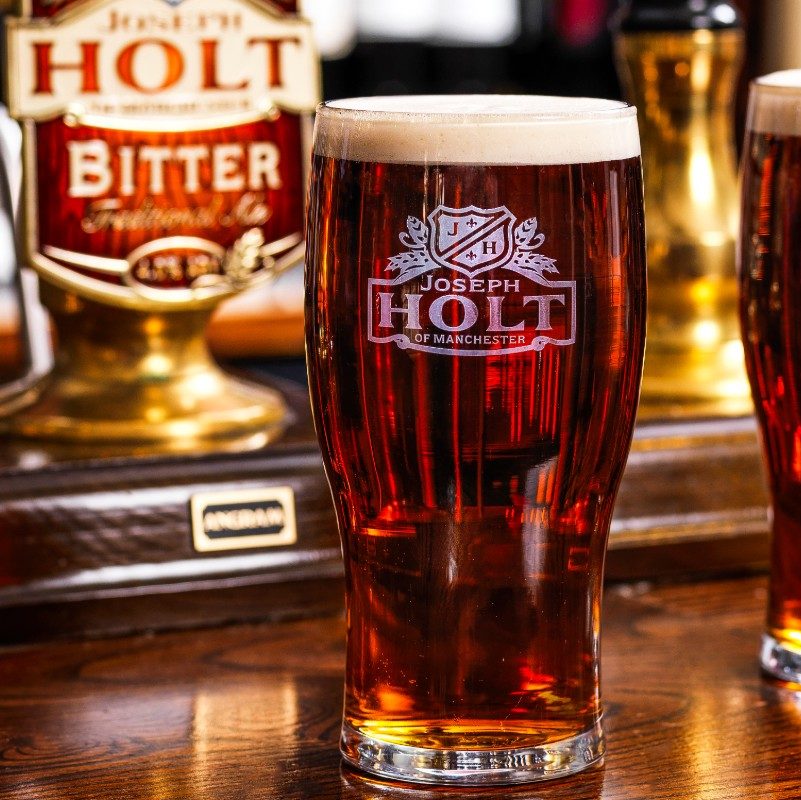 Joseph Holt celebrates 165th year as one of Manchester's Cask Heroes
As Joseph Holt celebrates 165 years as one of Manchester's longest standing breweries, it brings us great pride and pleasure to continually offer our customers the finest cask ales in the North West. Our new Head Brewer, Phil Parkinson joins Morning Advertiser in a Q&A to share his hopes and plans for the future.
1.  What drew you to Joseph Holt?
First and foremost, the great beers.  I'm passionate about beer and I'd hate to work for a brewery whose beers didn't float my boat; I'm fortunate enough never to have found myself in that position having worked for Banks's and Marston's previously, but for a brewery to tempt me away it had to be more than a little special, and Joseph Holt definitely is.
2.  How are you going to build on Joseph Holt's past success? 
With a history of cask ale that stretches back to 1849 and all four walls of a sizeable room at the brewery devoted to framed beer awards there's no shortage of past success to build upon.  I fully intend for that trend to carry on as there's no lack of appetite or support from the team here at Joseph Holt to continue to fill the trophy cabinet.
3.  Where do you think the market is going with Cask Ales?
The cask ale market is growing, which is great news for our industry. A lot of this growth is coming from microbreweries popping up all over the place and this is giving consumers what they want – variety.  A part of the appeal of Joseph Holt to me was the versatility of the brewing kit. We're able to brew 500 barrels of Joseph Holt Bitter or our award winning range of lagers (Crystal, Crystal Gold and Diamond) or let our creative juices flow and use our micro plant to brew 30 barrels of something new and innovative. This means we're able to service the needs of both regular Joseph Holt drinkers and tap into the craft beer market.
4.  What makes Joseph Holt stand out from the crowd? 
For me Joseph Holt stands out from the crowd because it marries up interesting beers with consistent high quality.  There are also plenty of breweries that can produce beer of a consistent quality, but the beer isn't interesting. Joseph Holt Bitter, for example, is an unashamedly hoppy beer – your taste buds don't need to search for bitterness, yet the beer is very drinkable. Sessionable beers don't need to be bland.
5. Can we expect any 'Heroes'? 
Two Hoots is a cracking beer – pale, hoppy, quaffable – that's going from strength to strength both in Joseph Holt pubs and the National On trade at the moment. I also have plenty of ideas for new products that it would be great to grow into cask heroes – keep an eye out for Bah Humbrew this Christmas, a hero in the making.
6.  What do you think of the current trends in Cask Ales? 
Any trend in cask ale (other than a decline) has to be a good thing; whilst there are trends, there's consumer interest.  The trend toward pale hoppy cask beers is a great one, there's nowhere to hide for beers with poor clarity and some interesting hops have really been able to shine.  There have been some interesting flavours added to beers too, Joseph Holt Maple Moon and Humdinger brewed with judicious additions of maple syrup and honey respectively have certainly captured the imaginations of consumers.
7.  Can we expect to see a development in free trade presence for the Holts cask range? 
The Joseph Holt cask range already has a very strong free trade presence, there are pubs in Manchester where licensees have told me that they simply would not survive without Joseph Holt Bitter on the bar. Our free trade is growing strongly and this will be helped through the production of new cask beers.  The market, and in particular Free Trade, demands variety, so that's what we'll provide and I'll have a great time coming up with new recipes in the process.
8.  Given Holt's expansion of its food led pubs, are you developing ales to specifically go with food?
In a word, no. I'm all about making great beer that people want to drink, not making beer that fits with a particular dish on a menu. There are definitely beers that sit better alongside certain foods – speaking of which I had a pint of Joseph Holt Sixex last night with a mince pie, superb! – but I'd rather create a beer and then decide which food would accompany the beer well.
9.  What do you think makes a 'Hero'?
I'd say that a hero has to be outstanding amongst its peers and that true heroism will always stand the test of time – there's a reason why history books are full of heroes.  Joseph Holt Bitter ticks both of these boxes and Two Hoots, although a lot newer, stands out now and has definitely got the legs to go the distance.
10.  What's your long term plan for the Holt's Cask Ales?
I've got lots of plans, too many to go into here, but, in a nutshell, I plan to carry on brewing the great Joseph Holt brands that are already established and complement them with new brews.  With the brewing kit and the team here at Joseph Holt the possibilities are huge – watch this space.
Don't forget to take a look at our complete guide to cask ale for a low-down on everything from what exactly it is to dis-spelling the misconceptions.