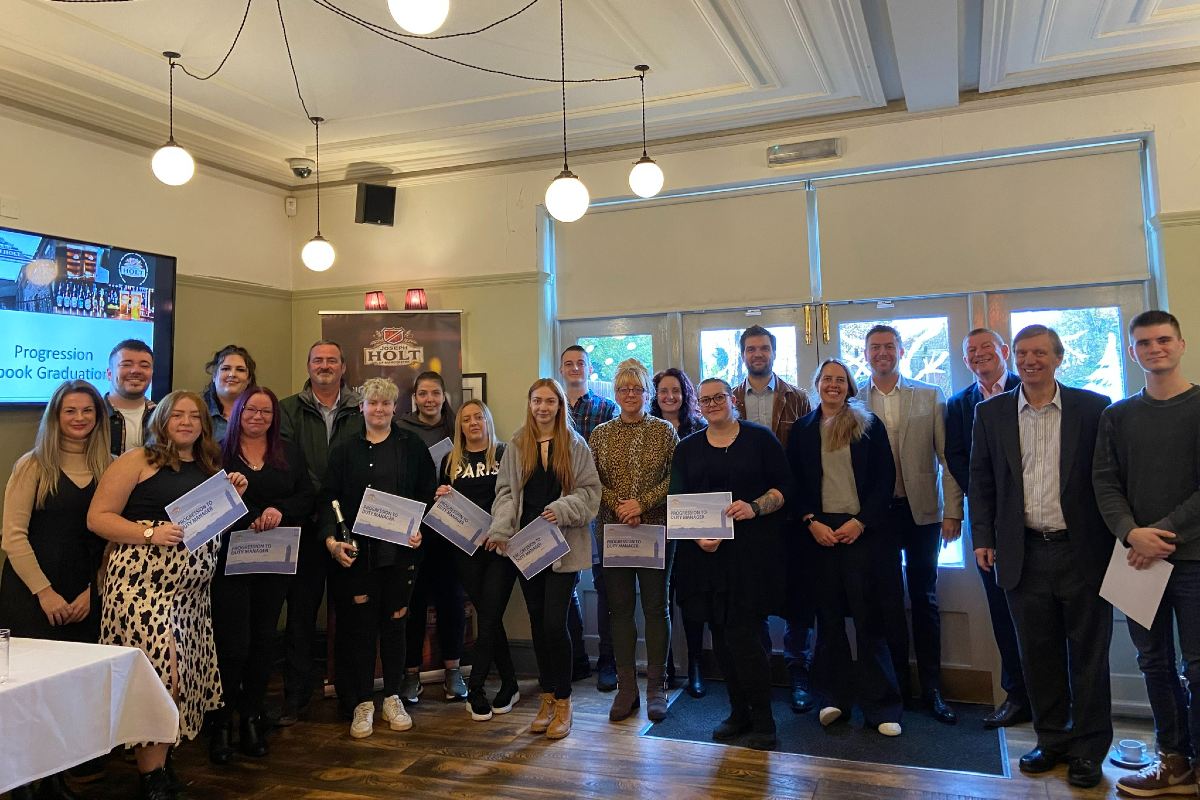 Progression Programme 2022 Graduates Show The Benefits Of Staying Local
Climbing the career ladder often involves changing jobs. But not at Joseph Holt!
We were delighted to see 22 current members of staff progress to 'graduation' from our in-house training scheme in a ceremony at The Woodthorpe pub in Prestwich.
The Joseph Holt progression programme encourages all staff members, however junior, to work towards becoming managers, assistant managers and head chefs. This year, we had 6 members progressing through the Head Chef work book and 16 from the Managers work book.
The aim is to help propel staff up the managerial ladder and towards running their own pub or own kitchen.
The scheme was devised by Chloe Dickinson, Training and Development Manager at Joseph Holt. Chloe started her own career in the pub industry as a teenager. By the age of 19 she was running her own pub in Chester, becoming one of the youngest landladies in the UK.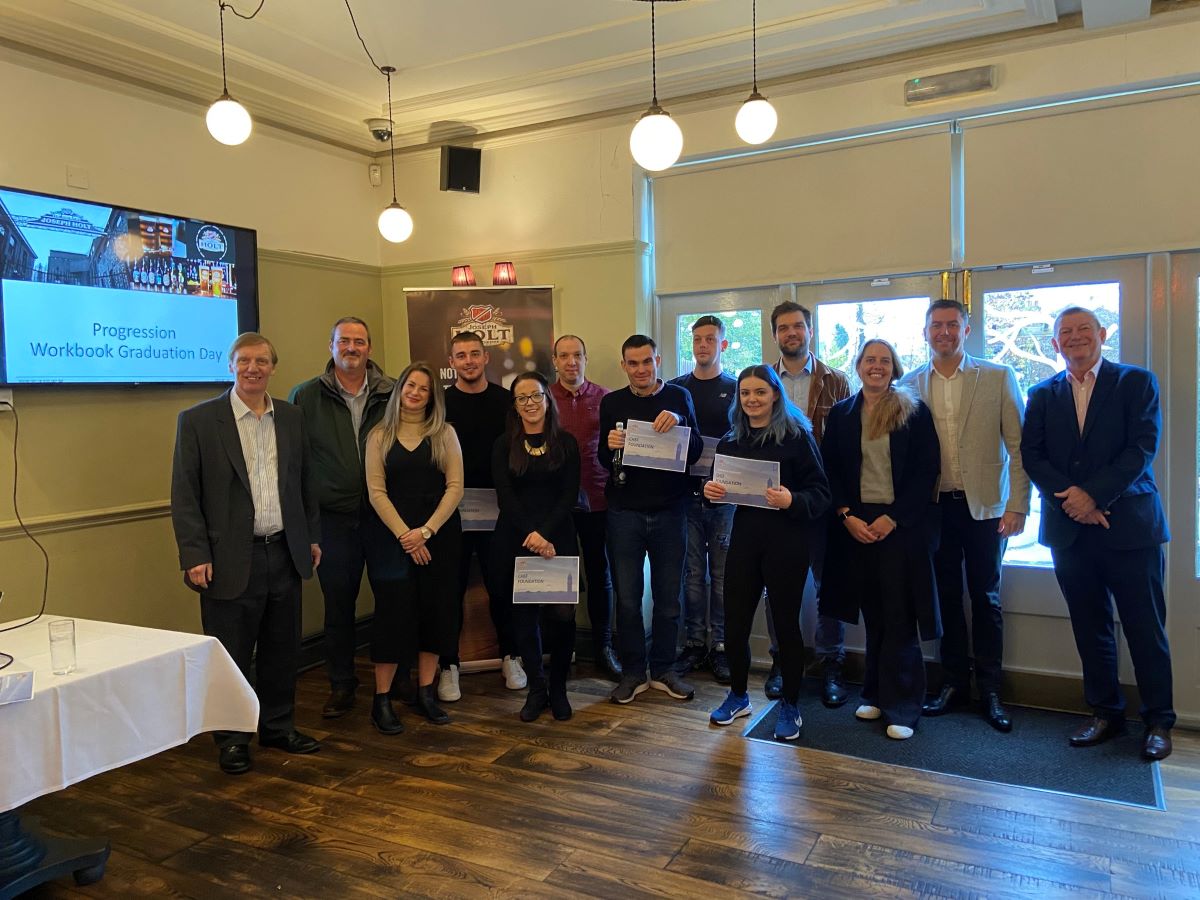 Above: Some of our graduates and management team
Chloe said, "The Joseph Holt philosophy has always been to encourage ambition within the company. So, we decided to formalise that by developing this with a training course that could be completed alongside existing roles within the firm.
"The course includes leadership and employee relation segments, as well as mastering tasks such as effective recruitment and pay rolls. But there's also grass roots work, such as completing time in the kitchens, organising rotas and ensuring effective running of our food business."
Progress is supervised by senior members of staff and monitored through completion of work books.
The recent batch of graduates marked their successful completion of the scheme with a ceremony at The Woodthorpe in Prestwich. The large Victorian house was the former family home of Sir Edward Holt, son of brewery founder Joseph Holt, after his family moved in during 1884. You can read up more on Joseph Holt history here.
The hospitality industry has suffered a recruitment crisis since the start of  the pandemic. However, Joseph Holt has managed to weather this, in part, because many people stay with the business thanks to the option for career progression.
Richard Kershaw, CEO of Joseph Holt, says he believes entry level jobs, such as serving behind a bar, should be regarded as only the start of the journey for those with ambition.
"Working in, say, a pub after graduating or leaving school is a way of accruing some valuable skills such as learning how to be part of a team, communication and taking responsibility. We really want to nurture talent and ambition and our progression plan really encourages this."
Added Chloe: "People take on jobs in pubs for all sorts of reasons – it might be the flexible hours or the convenience. But in our brewery there is so much scope for ambition. We take apprentices but the graduation scheme is also a reminder that your career can start – not finish – with pulling pints.
"I never imagined when I started doing casual bar work at 16 that 14 years later I'd be part of a team looking after 127 Joseph Holt pubs. But with our scheme we can encourage that ambition and open the door to a successful and fulfilling career."