After four ales and 151 years of history under our belts, our cask ale journey makes its way to the current times with Ruby 40.
This all-English red ale tells the story to date of Richard Kershaw, our current chief executive and the great-great grandson of founder Joseph Holt who celebrates his 40th year at the family brewery this year.
How does Ruby 40 taste?
Ruby 40 is a classic red rye ale brewed to 3.9% ABV. On the nose there's a lightly resinous, dry hop aroma thanks to the use of traditional English hops which marry up perfectly with the English ale malts and crystal rye to give a full-bodied, amber-coloured beer. Ruby 40 is a delicious, well-balanced beer with a pleasant level of bitterness. A Ruby to remember.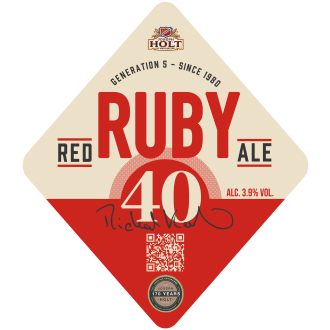 1980 was a momentous year for many reasons – the Rubik's Cube was released to the world, news channel CNN launches, John Lennon is shot in New York, Post It notes are introduced, and Richard Kershaw joins his father, Peter, at Joseph Holt Brewery to continue the family legacy.
A traditional following on from previous generations, family members can only join Joseph Holt when they have gained experience in the industry elsewhere and have something to bring to the business. Richard Kershaw was no different.
After spending two years as a pupil brewer at Morrells of Oxford, followed by five years at Whitbread in management positions and running off licences, Richard had proven himself enough to be invited to join Joseph Holt and carry on the family business as its fifth generation.
On joining his father and overseeing the business' then 80 pubs, Richard joined the board in 1984, and a short time lately was made joint managing director.
Key business moves under Richard's reign
Under his leadership, Joseph Holt has accomplished a number of key business moves. Richard has overseen the rapid expansion of the pub estate to well-over 120, whilst also seeing a big majority of tenanted pubs become managed and also established our thriving free trade in 1983. As the company has evolved with the brewery still well and truly at the centre, the Joseph Holt pub estate now offers a great dining option with around a third of our pubs serving food. Importantly, Richard has also carried on the generous charity fundraising activities that runs so strongly through the company.
A major achievement for Richard was the launch of three brand new lagers – Crystal, Crystal Gold and Diamond – which have gone on to great success. In 2011 Crystal won a gold at the International Brewing Awards, followed by a gold for Diamond in 2013 and 2017. The gold in 2017 was our fourth consecutive gold medal at the IBAs, establishing Joseph Holt as one of the world's very best breweries.
Taking Joseph Holt back to private ownership
Perhaps the most pivotal moment of Richard's reign was taking Joseph Holt back into private ownership in 2000, after being a public company for almost 50 years. During that time Richard, and his father before him, had to resist many takeover enquiries, and were delighted to welcome the brewery and pub estate back into family arms where Richard became the Chief Executive. It was the same year that Joseph Holt raised a tremendous £301,056 for the Christie Hospital to celebrate our 150th anniversary.
Fast forward a full 40 years since Richard joined and he is still an essential part of the company and role model to the Joseph Holt family. More recently, Richard has been joined by two of his children, Jane and Andrew, as he lays the foundations and plots the pathway for Joseph Holt's continued long-term success with the sixth generation. But for now, Richard is going nowhere.