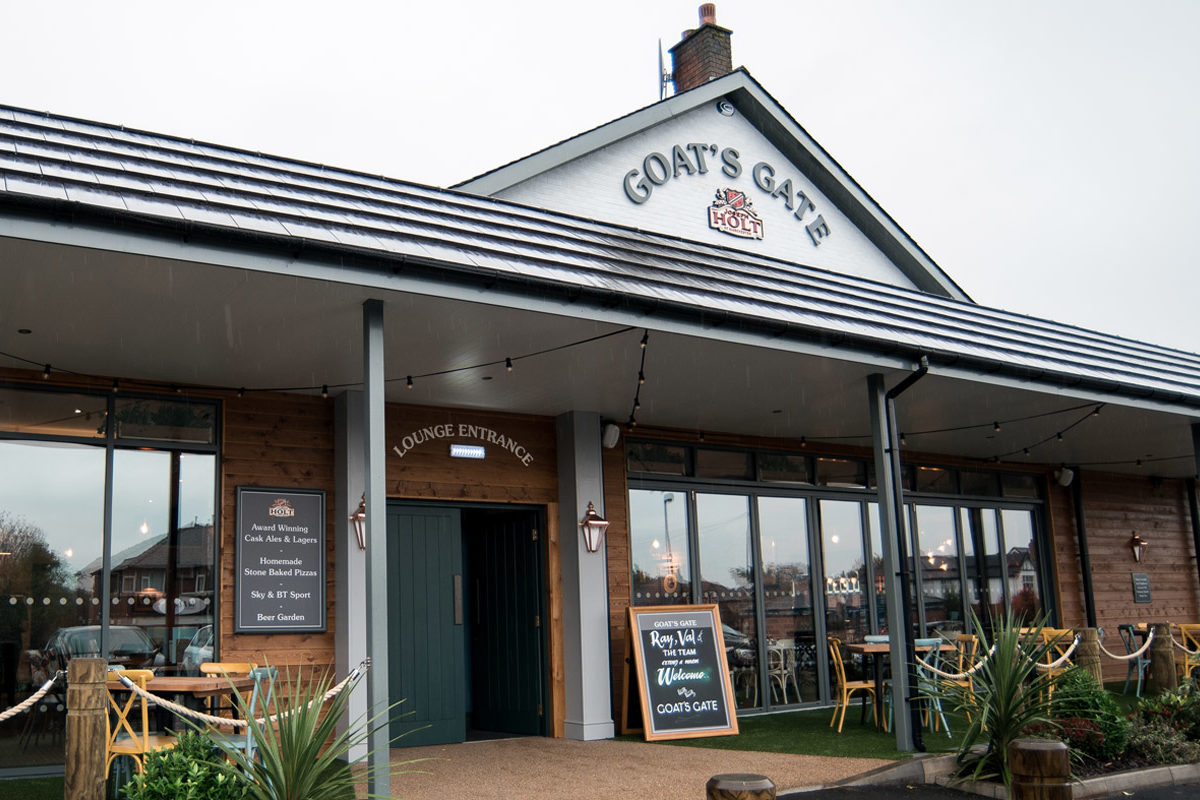 New Pint and Pizza Concept Opens in Whitefield
Drinkers at the Goat's Gate will now be able to enjoy a pizza with their pint after a £500,000 refurbishment at the Whitefield pub.
The revamp by brewery Joseph Holt includes an on-site pizza kitchen offering fresh, home cooked dishes – including a mouth-watering variety of stone baked pizzas and flat breads.
As well offering traditional toppings, the menu will offer some of the brewery's own specialities including the Joseph Holt Beer BBQ Farmhouse Feast pizza while the Bury Black Pudding and Chorizo garlic flat bread offers a nod to the location of the pub.
The Goat's Gate which sits on the corner of Dales Lane and Radcliffe New Road, used to be an exclusively drinks-only pub, but as a result of the revamp has now joined Joseph Holt's 45 food houses. The brewery has further 81 pubs.
As well as the pizza kitchen, diners will be able to enjoy many traditional menu favourites, matching choice of food with the brewery's award-winning ales and beers.
The first Goat's Gate Inn had originally been a farmhouse which was pulled down in the 1860s to make way for the Goat's Gate Hotel – so named because it stands close to a field where goats were kept. It was rebuilt in 1962 by Peter Kershaw, father of Joseph Holt's chief executive Richard Kershaw.
As well as the pizza oven and kitchens, the refurbishment also includes a new, wrap around veranda and beer garden.
However missing from the newly opened pub is the landmark model goat which used to straddle a black gate on the pub roof and which has now been put out to pasture or rather is in safe storage, though he will make occasional appearances. Meanwhile the worn pub sign, which also featured a goat has been replaced with a new sign to keep in with the revamp.
Richard Kershaw, chief executive of Joseph Holt brewery and a fifth-generation member of the Holt family, said: "We're absolutely thrilled with the revamp and the transformation of the Goat's Gate into a food house – not least because of the service it will offer to our customers and of course the boost to the local economy.
"Increasingly people are looking to pubs as places to enjoy tasty, freshly cooked food. We're sure that the idea of having a pizza and a pint or indeed any food and drink combination will prove to be very popular."