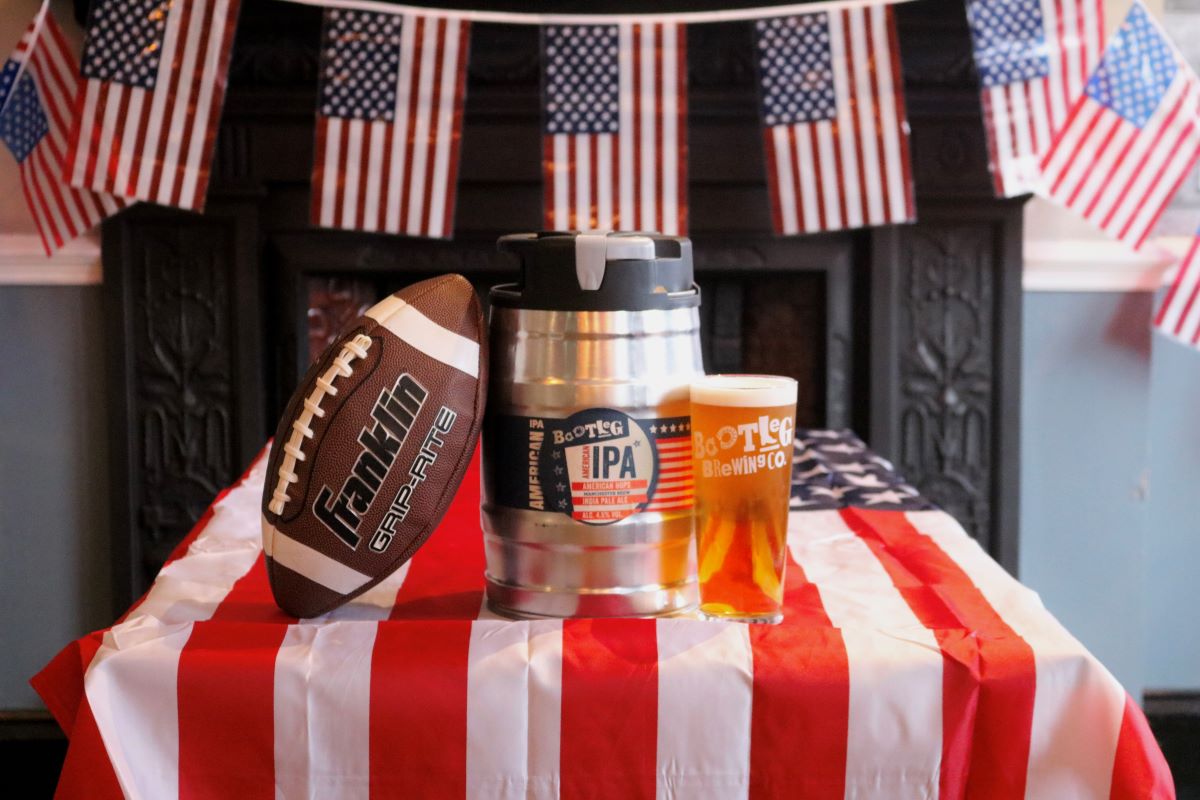 What Is American IPA & Where Did This Pale Ale Come From?
You can think of American pale ale as the younger cousin of English pale ale. 
Although they can look similar in appearance, these two styles of pale ale are quite distinct when it comes to flavour.
Since it was first developed in America a number of decades ago, American pale ale has quickly grown in popularity with both drinkers and the craft breweries of the US, particularly on the West Coast.
Thanks to this, American pale ale found a firm, albeit niche, footing in Western Europe and many breweries across England. This style has grown in the UK too and a variety of pale ales can be found in most establishments. 
Let's take a closer look at what exactly an American pale ale is and answer some frequently asked questions. It's worth saying that beer styles can be a thorny subject, so please take our comments with a slight pinch of salt to account for any grey areas.
What is an American Pale Ale?
American pale ales represent a variation of the original India Pale Ale (IPA), a style first brewed by the British in the 1800s. 
The new style of American pale ales, sometimes referred to as APAs, grew out of the American craft brewery revolution in the late 1970s. This movement was pioneered by San Francisco-based Anchor Brewing and their former owner Fritz Maytag, who visited a number of English breweries in the mid 70s to learn more about pale ales. 
The main distinguishing factor between American pale ales and British pale ales is the brewing ingredients used – in particular the type of hops. American pale ales tend to be vegan friendly kegged beer. 
In the late 70s and early 80s, American craft brewers decided to experiment with the classic British pale ale recipe by using locally grown US hops. Thanks to the unique flavour profiles of the north-westerly grown US hops, a distinctive style of pale ale was created.   
The result was a lighter, hoppier ale with a citrusy punch – characteristics that make American pale ales what they are today. A must different style from the likes of stout ales. Colour-wise, APAs tend to range from pale gold to a light amber colour.
One of the first US breweries to successfully bring an American hopped ale to market was California-based Sierra Nevada with their simply-named American Pale Ale.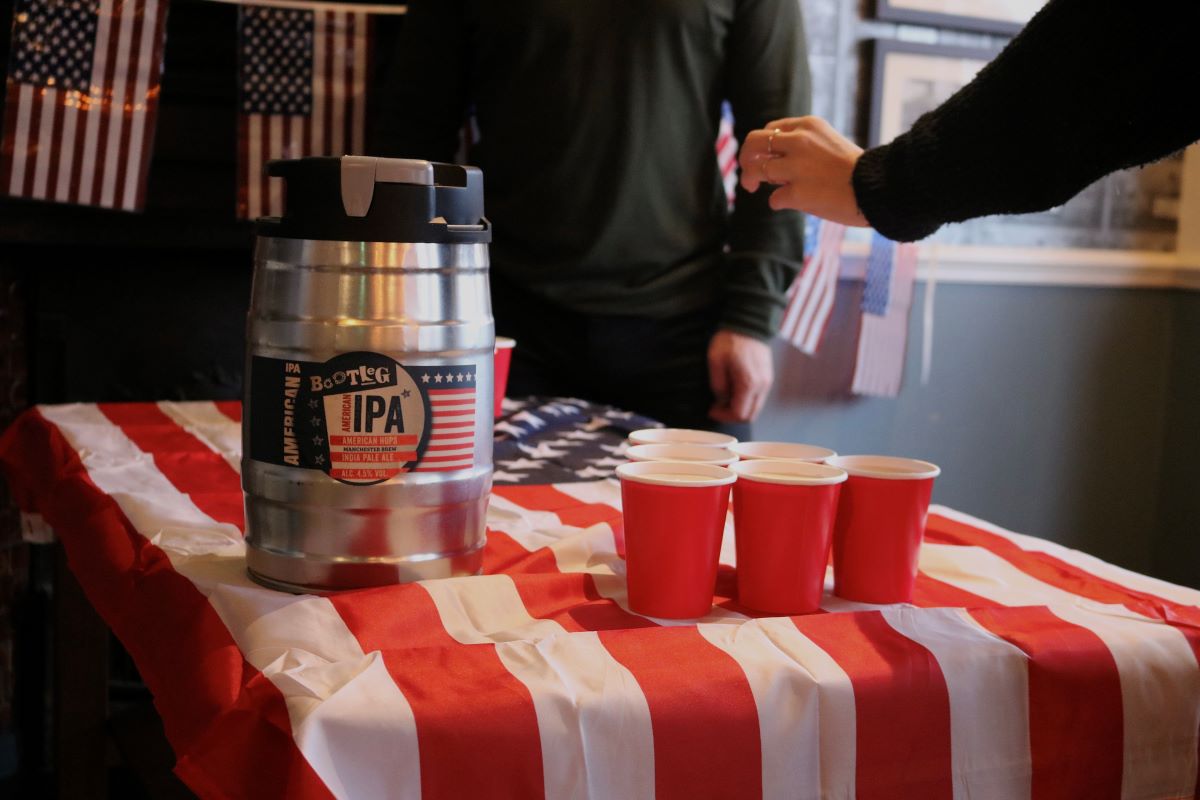 Is American IPA hoppy? 
American pale ales are known for their strong hop profile, creating a citrus-like character in the beer. Depending on the beer, you may be able to taste citrus fruit, such as grapefruit, and even tropical fruits, such as pineapple and mango. It's for this reason that IPAs pair well with food combinations such as spicy dishes and fried food. 
The use of dry hopping may also be used to add hop aroma without impacting the bitterness of the beer too much. 
With hops the defining ingredient of an APA, there are now many US hop varieties to choose from. Some of the more popular hops used in American pale ales include: 
Cascade – originating from the Cascade mountain range in Oregon. Joseph Holt uses cascade hops in a number of our beers, including Two Hoots, Maple Gold and Maple Moon
Centennial

– originating in the state of Washington

Chinook

– another originating from Washington

Citra

– one more from Washington
With Oregon and Washington both located in the Pacific Northwest of the US, it's a popular region in which to grow hops.
In fact, it's in the Pacific Northwest where the vast majority (around 96%) of US hops are produced. This is due to the ideal temperature climate, soil conditions and adequate natural water supply. So, if you're looking for a good American hop, this is your place to start. 
The Bootleg American IPA that we produce has a combination of Chinook, Azacca, Summit and Warrior hops, resulting in a high-quality, well-hopped pale ale!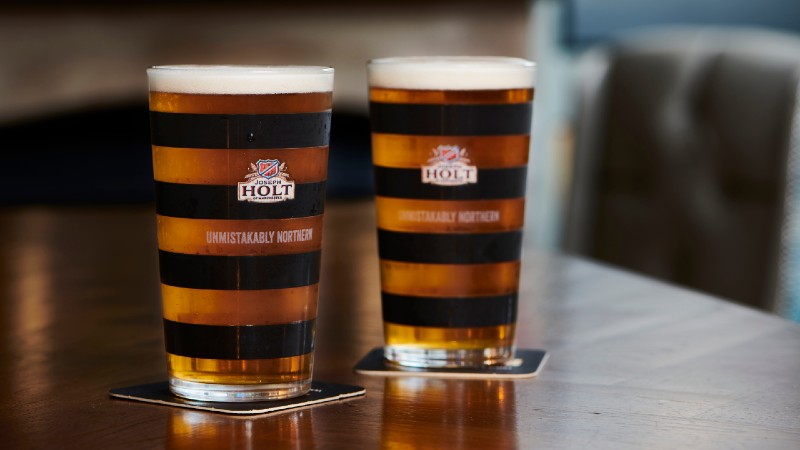 Pictured above is Northern Hop – a different style of pale ale.
What is the ABV of an American IPA?
As a general rule of thumb, American pale ales tend to have a higher ABV than your standard ales and lower strength session ales.
However, with so many varieties now out there, you can find IPAs of all strengths – from low to very high. 
If you're looking for a numerical range, the most common ABV for American pale ales will generally lie somewhere between 4.4% to 6%. 
For example, Bootleg American IPA comes in at 4.5% ABV. This is on the lower when compared to our neighbour over at Runaway Brewery, who brew a 5.5% ABV west coast IPA. 
Is American IPA malty?
How malty an American IPA is will depend on the beer in question. 
Some APAs can have a very high hop content, which may overshadow any malt taste. Other IPA types can be more balanced in flavour, with tones of malt coming through.
In general though, it's safe to say that American IPAs are not as malty as other beer types, such as dark ales, brown ales and stouts.
Wrap up on American IPA
And there you have the low down on American IPAs, where they've come from and what they are.  
Of course, you can dig much deeper into the nitty gritty.
Under the broad umbrella of American IPA, there are further sub-categories of West Coast IPA, East Coast IPA and New England IPA. However, we'll save discussing these American IPAs another day.