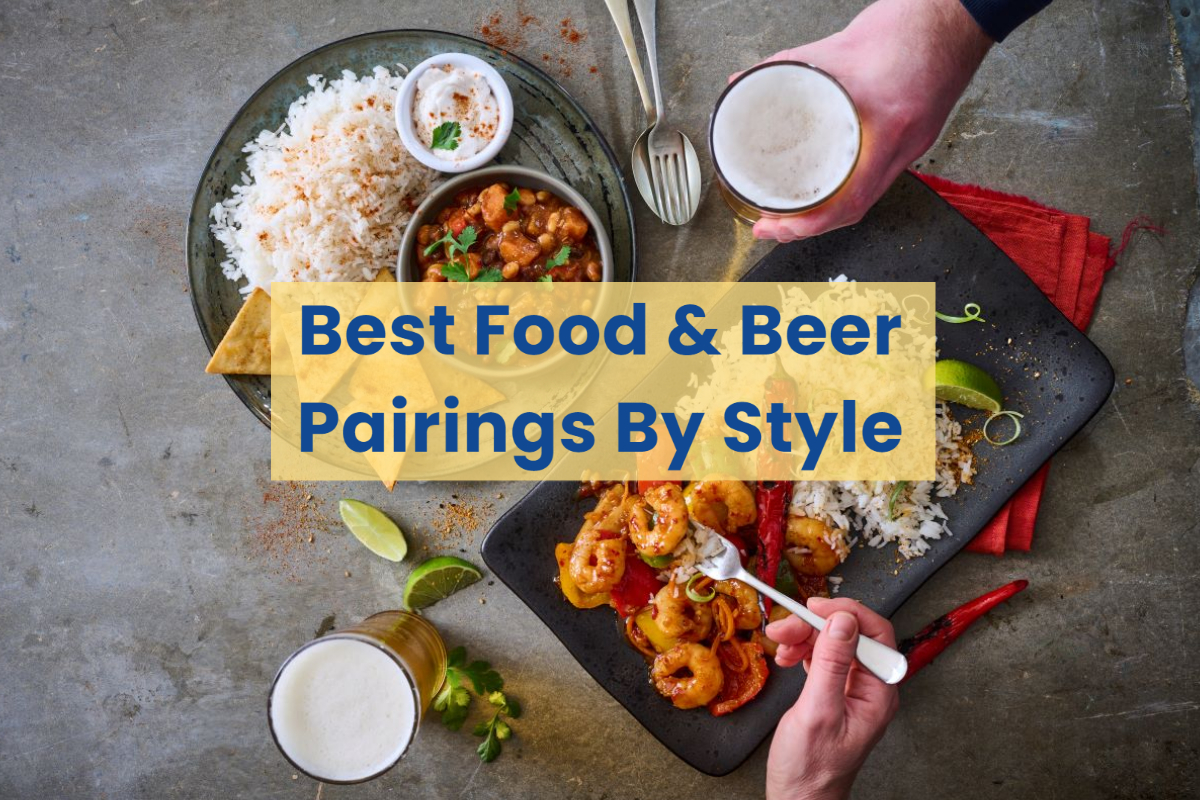 Best Beer Food Pairings: Combos You Need To Try By Beer Style
There are some food combinations that just work – fish and chips, sausage and mash, peanut butter and chocolate. And some others that just don't – yep, we're talking about pineapple on a pizza. 
In the world of beer, there are a whole host of foods and snacks that can actually enhance the flavour of your favourite drink too! 
So next time you fancy some bar snacks, why not go for one of the below food and beer pairings?
How To Pair Beer With Food
It's not just a case of picking your favourite beer and then choosing your favourite food. In fact, if you really want to get the most out of your beer, you need to think about the three C's: 
Contrast

Complement

Cleanse
For example, you might prefer contrasting flavours. If so, choose a beer or food that has one dominant flavour, such as sweet or rich. 
On the other side, you might want to complement flavours. Think rich foods with dark beers, similar to a full-bodied red wine with steak, and lighter meals with lighter beers, like when you pair white wine and seafood. 
Finally, beer can also be used to cleanse the palate after strong flavours like spices in a curry or chilli con carne.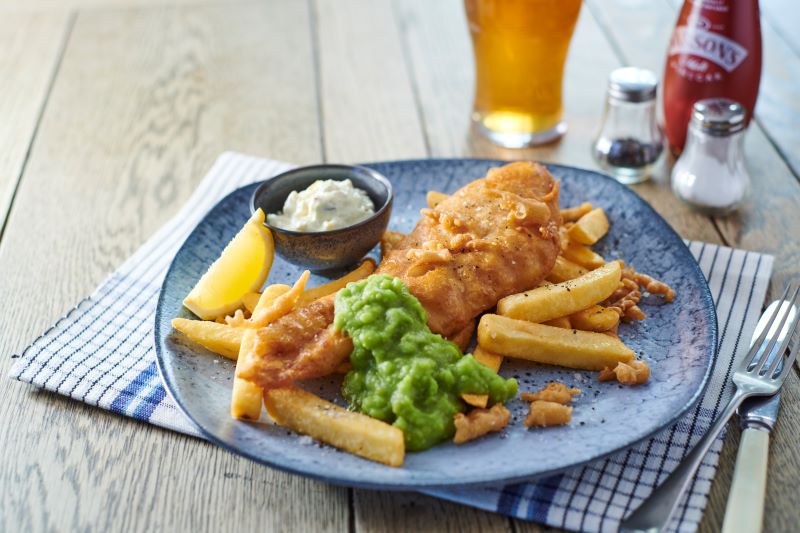 Best Beer and Food Combination Ideas
Beer can vary in terms of flavour, colour, alcohol content and after taste. Check out our beer styles guide for all the information on this. 
This can all impact what foods and snacks make the best pairings. Remember, these are just ideas though. If you fancy curry with your pint of Trailblazer Stout, no one's judging at Joseph Holt!
Food & Lagers
Popular for their refreshing, crisp and light taste, lagers are often used as palate cleansers after spicy foods. Think of our famous Jackfruit and Pepper Balti or our Signature Firecracker dishes washed down with a pint of Diamond Premium Lager or Crystal Gold.
They can also provide a welcome contrast to fried and fatty food, as well as salty foods. Lagers go superbly well with the likes of chips, pizzas and burgers for this season. With such a clean taste though, they can be paired with practically any dish!
On a rare occasion, you can dark lagers. Usually, these have hints of nuts and a mild sweetness, which could go well with a dessert.
Golden and Blonde Ales with food
Boasting a light to medium body and plenty of hops, golden ales are best-suited to tangy, tomato flavours and pasta dishes.
Consider lasagne, spaghetti bolognaise or even tomato-strong pizzas alongside a refreshing pint of Chorlton Pale Ale or Two Hoots.
Grilled meats and seafood can also bring out the flavour of these ales and our King Prawn and 'Nduja Pappardelle is a great option if you're looking for some inspiration.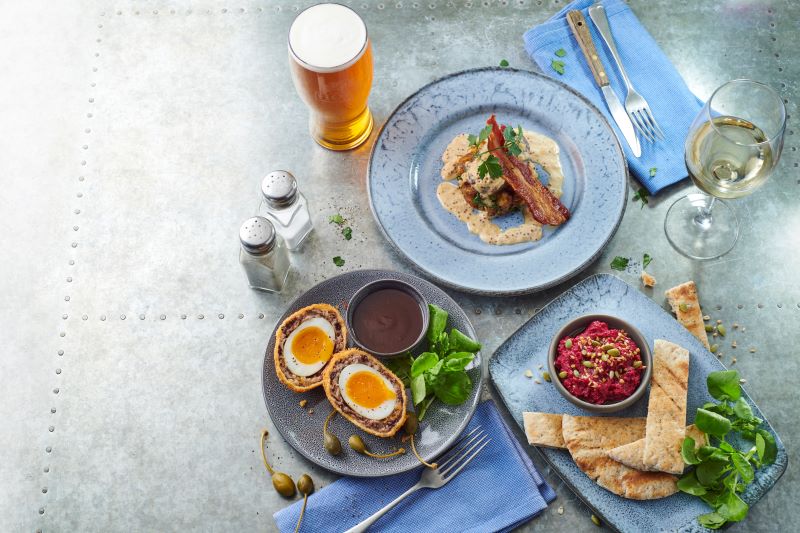 Stout pairings
Rich, deep and dark in colour, stouts are best-paired with those red wine food pairings. Think our Buttermilk Chicken and BBQ Wrap. If you've got a sweet tooth, you can skip the mains and go straight to dessert with our famous Chocolate Fudge Cake. 
If you do fancy mixing things up, why not try a contrasting dish of shellfish with our Trailblazer Stout?
Even better, a modern-day version of a coke float can be made with stout and vanilla ice cream to create a delicious drink that dreams are made of. You might have to try this one at home with a Trailblazer mini keg. 
If you'd like to learn more about stout, have a read of our comprehensive stout guide here.
Indian Pale Ales
Also called IPAs, and a popular drink on the beer scene, India Pale Ales can span a range of colours but are usually well-hopped. This often gives them strong citrus and fruity notes with tropical flavourings.
This means the likes of our Joseph Holt IPA Cask Ale is a great pairing for fried food like chips, fish and mozzarella sticks – as well as spicy dishes like our Firecracker Beef and Pepper Wrap. If you looking for a big hitter, opt for our American IPA or for a lower strength beer opt for a session IPA. 
There are also what's known as double IPAs, which are brewed with more hops and result in an even stronger flavour.
Dark Ales
With hints of chocolate and coffee, and with a dry and nutty flavour, it probably won't surprise you that brown and dark ales go really well with desserts and sweet dishes. 
That being said, they're also a popular accompaniment for contrasting dishes like fish and pork and, when paired with sweet sauces like BBQ sauce, we guarantee you won't look back!
Beers such as our famous Mild, Manchester Brown Ale and Black go well with rich dishes and hearty tastes. Think red meats, strong cheese and BBQ ribs. 
If you're asking us, we'd start off with the Joseph Holt Garlic and Stilton Mushrooms, before heading onto the Classic Beef Burger and finishing off with a chocolate dessert like the Nutella Brownie and Cookie Dough Tart. When it comes to dark ales, rich food works best.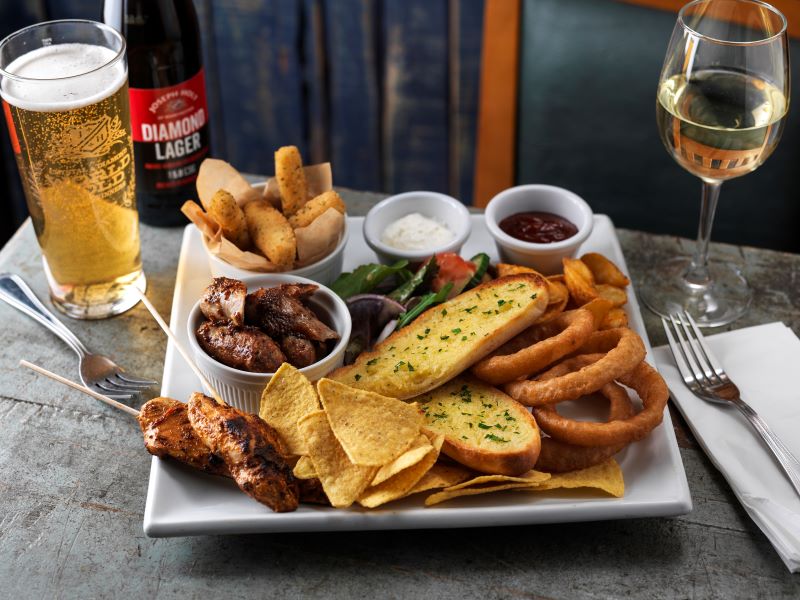 Bitter 
Similar to dark ales and stouts, hoppy bitter is best-served alongside spicy and fatty foods. This helps to break through the rich flavours. Think creamy sauces, bacon, fish and chips and even fry ups!
Of course, we're not saying you should reach for a bitter with your morning full English breakfast but, if a mixed grill is on the menu after lunchtime, a pint of our Original Joseph Holt Bitter will go down superbly well. 
Wheat Beers 
These types of beers are made with a combination of barley and wheat grains.
Boasting a lighter carbonation and smooth texture, many brewers choose to add citrus flavourings for extra taste. This makes them a great addition to spicy meals including Mexican food as well as lighter dishes like our Halloumi and Vegetable Skewer House Salad. 
They also tend to pair well with sweet desserts so save yourself some room and order the Apple and Almond Tart!
Find the perfect food and beer pair at Joseph Holt
Whether you want to show off your newfound skills amongst friends at the pub or just want to create a tasting experience to remember, these food and beer pairings are guaranteed to impress!
What's more, we have plenty more where that comes from with a delicious menus available in our pubs across the North West. 
Even better, we have dedicated curry nights and fish and chip evenings so it'd be rude not to go along and enjoy a pint or two! Head over to our Pub Finder page to get a list of all our pubs serving food, plus the weekly offers available.