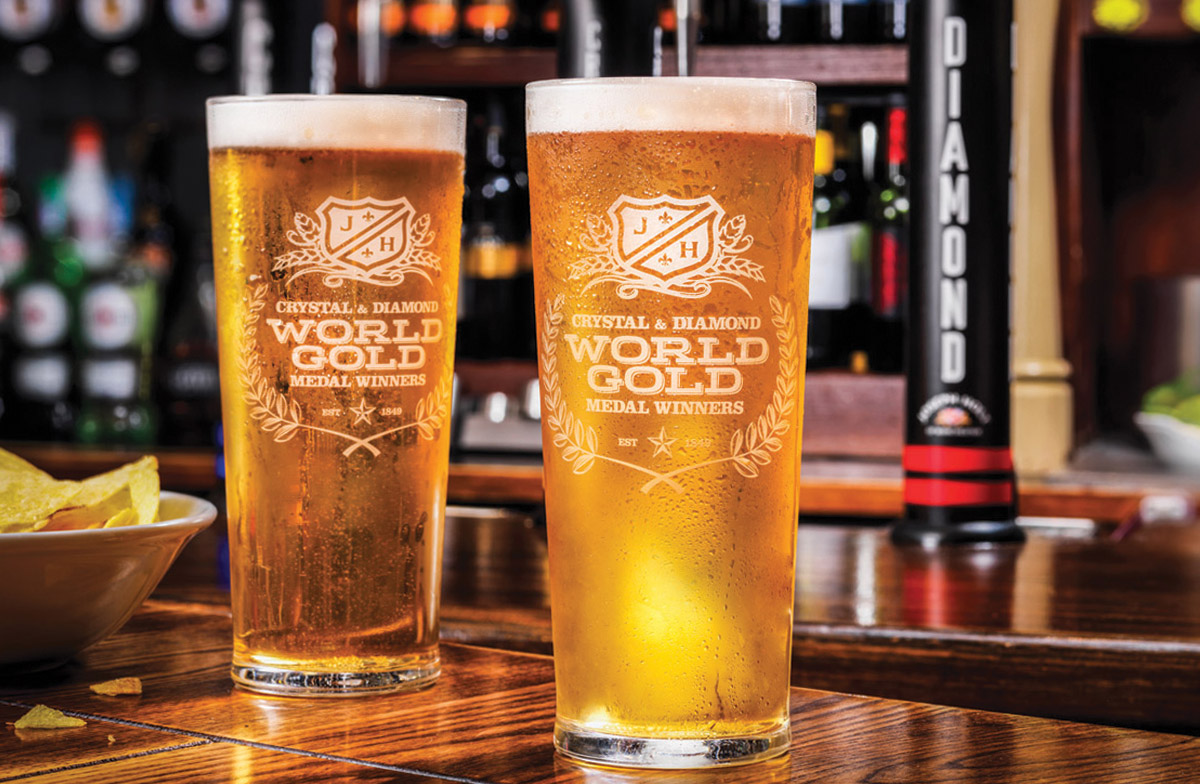 Joseph Holt Spotlight: Diamond Beer
From refreshing crisp lagers to full-bodied ales, here at Joseph Holt we focus on creating only the best beers that we're proud to serve in our pubs. Here we're putting the spotlight on Diamond: our premium, award-winning lager.
Diamond is a lager which has been officially crowned the best premium lager in the world, not once, but twice at the International Brewing Awards in 2013 and 2017. With these high accolades, you know that Diamond is a premium, quality lager, right before you've even taken your first sip.
Have a read here to get more information about Diamond beer including tasting notes and a few more of the technicals.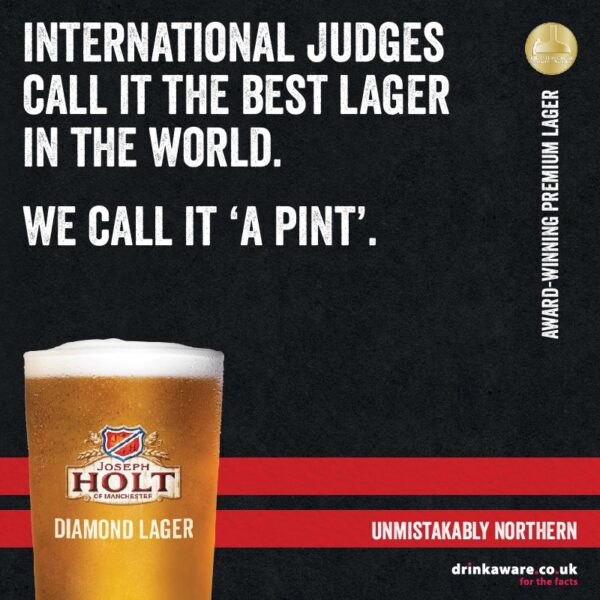 What Goes Into Diamond Beer?
With a clear, golden pour and a crisp, sparkling head, Diamond is a refreshing lager which is made using first-class ingredients.
Diamond is brewed with a choice lager malt and Styrian Golding as the lead hop to ensure great taste and appearance. You'll notice that the colour of Diamond beer is golden-straw, whilst it has a light and fruity smell which you'll spot before you even take a sip. Equally balanced between bitter and sweet, Diamond is a lager which is crisp and full of light fruit notes, making it the perfect lager for a refreshing post-work pint or to have alongside a meal.
Diamond is also cold-conditioned for 21 days. This means that in our Joseph Holt brewery, Diamond is fermented at a low temperature – a maximum of 2ºc – for a minimum of three weeks before it is filtered and packaged into a keg where we also condition our lager for a minimum of three weeks. The word 'lager' means cold storage after all, and this is exactly what we do.
This process means that we can create a much clearer lager, which has a crisper and more vivid appearance and, once this process is complete, the result is a gold standard, premium, full-flavoured beer.
Is Diamond a Vegan Friendly Beer?
Yes it is.
At Joseph Holt, we pride ourselves on offering something for all of our customers, which is why we have a vegan friendly food and drink range available at our pubs.
Made using malted barley, hops, water and yeast, our Diamond lager is vegan friendly, as is a large majority of our lagers and keg beers, meaning that you can enjoy a tasty pint whilst being assured that what you're drinking is in line with your ethics.
Enjoying Diamond Beer
Whether it's sitting in the beer garden after work or enjoying a meal with family, Diamond lager is perfect to drink no matter the occasion. However, if you're a lager connoisseur, we have a number of dishes on our menu which pair perfectly with Diamond beer.
Some pairings are just inseparable and our Jackfruit & Pepper Balti and Diamond lager is one of them. We all know that a curry and a pint are the perfect pair, but match your curry with a tasty 5% lager, and you've got a match made in heaven. The sweetness from the jackfruit and red peppers match with the sweetness of Diamond, which is bound together with the spicy of the balti sauce.
Lager perfectly pairs with chicken as the light and caramel lager taste delicately balances with seasoned chicken. Our chicken skewers come with fresh vegetables and a tangy sweet chilli and ginger marinade, so the freshness of Diamond beer helps to cut through the sweet spice.
Diamond is one of the most popular beers in Joseph Holt pubs and is one of very few beers to have won two gold medals at the International Brewing Awards. Diamond Beer is one of our core beers and can be found in all of our 125 pubs. Find your nearest Joseph Holt pub here.
Buy Diamond Lager Online
Available in our online beer shop, you can buy Diamond in 500ml bottles or in our 5L Diamond lager mini kegs. Both products pack a fantastic tasting, well-conditioned lager for you to enjoy at home. Grab yourself a World Gold Lager Glass while you at the Beer Shop and enjoy a proper pint at home!