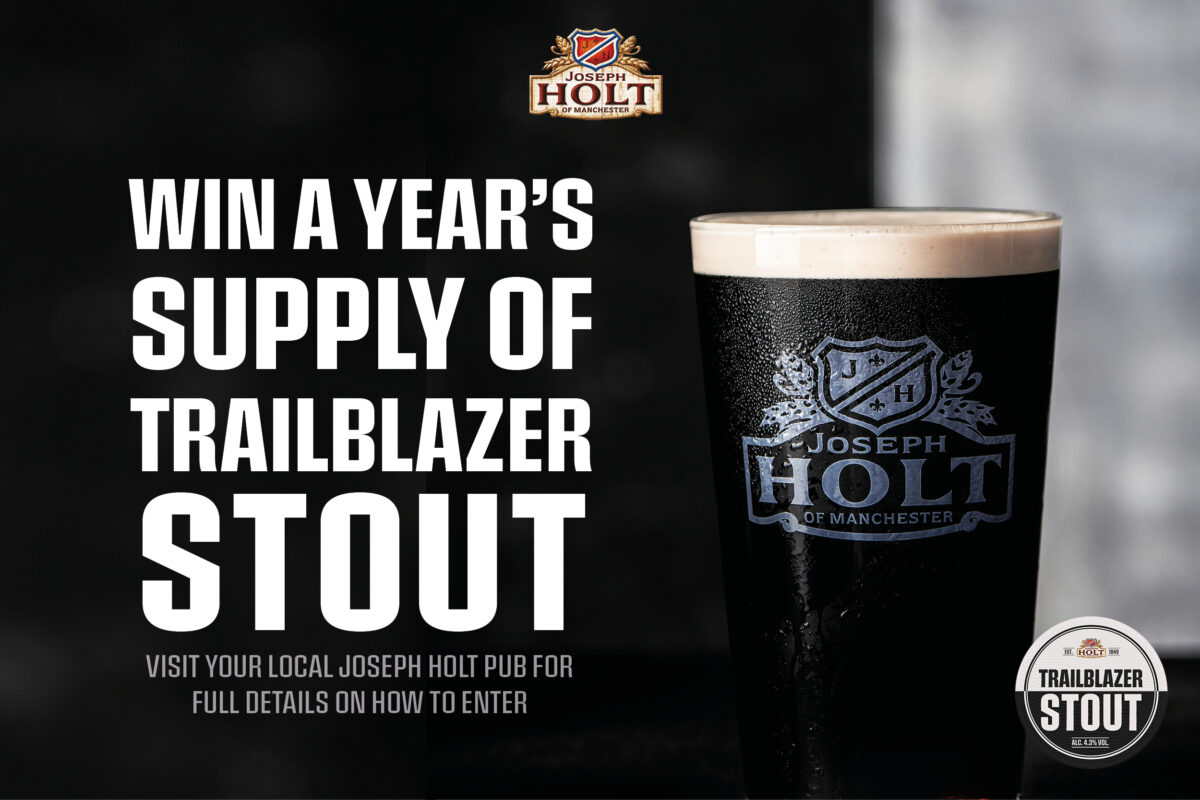 Win a Year's Supply of Trailblazer Stout
Buy a pint of Trailblazer Stout between now and 5th October 2020 and you could be in with a chance of winning a year's supply of your new favourite stout!
The one lucky winner will receive a year's supply of our new black and white stout delivered straight to their door.
If you're a stout lover (or know of one) and like sound of that all you have to do is visit your local Joseph Holt pub, buy a pint or half of Trailblazer and ask behind the bar for further details – the rest will be revealed!
What is Trailblazer Stout?
Trailblazer Stout is our very latest creation. We've wanted to brew a game-changing stout for a while and decided to use the downtime from April to develop this fantastic, world class product.
Trailblazer Stout is silky smooth with full richness. When first poured, you'll be first captured by the surging body leading the way into a full, tight, creamy head. The distinct roasted barley creates a smoky, dark roast coffee aroma with hints of treacle, liquorice and nutty notes, as described by our stout testers before launch.
Full without being too heavy, the velvety body develops into deep, characterful flavours of dark chocolate and malt, fully complimented by a striking balance of Joseph Holt's hallmark bitterness balanced with sweetness and a fine, dry finish.
Trailblazer is a refreshing and distinguished session stout served chilled from the bar with nitrogen for an extra smooth mouthfeel.
You can find full details on Trailblazer Stout on the beer page or if you're interested in stout, take a read of our all about stout beer guide here.
What about Joseph Holt Black?
For those asking 'what about Joseph Holt Black? Isn't that a world class stout?'
Correct, Black did win a gold medal at the International Brewing Awards in 2015, but Black is a very dark ale, and at 3.4% is much lighter than a full-blown stout. For Joseph Holt Black fans though, don't worry, it isn't going anywhere and we'll be serving Trailblazer alongside it.
How to enter the Trailblazer Stout competition?
To find out full details on how to enter the competition to win a year's supply of Trailblazer Stout, you need to head to your local Joseph Holt pub, buy a pint (or half) and ask the staff for details. You'll then be given the details on how to enter the competition!
The competition is open from Monday 7th September and closes on Monday 5th October. Full details of the competition and T&Cs can be found here.